The Industry Called Nollywood
by Mcphilips Nwachukwu
June 19, 2012
Jun 19, 2012 (Vanguard/All Africa Global Media) -- IN the beginning: The story of Nigeria`s Nollywood is like Ben Okri`s "river" in his novel, The Famished Road, "which becomes a road and branches out to the world."
Like a river, which starts small from a tiny tributary, the industry began as a small effort by some persons with energetic entrepreneurial spirit, who wanted to do small budget films for commercial purposes; and suddenly branched out like an ocean into one huge market that today intersects the world of business interests of actors and actresses, script writers, production crews, distributors and regulatory bodies, even in the daunting face of threatening copyright infringement challenges.
Berthing in Nigeria in 1992, this entertainment industry popularly known as Nollywood is acclaimed by industry players to rank as the third largest movie industry in the world after India`s Bollywood and America`s Hollywood. According to movie scholars and critics, Nollywood industry, which despite its relative young emergence in the global movie market has successfully become an enviable artistic cultural vehicle with which African narrative is communicated to the world, ironically emerged as a child of necessity to fill the gap created by the total collapse of the country`s theatre and stage culture.
According to industry sources, the failure of government in providing adequate security surveillance over life and property in the late 80s`and early 90s`resulted in the very negative manner at which the public viewed public shows, especially as it had to do with cinema, stage and theatrical performances with disenchantment.
Also added to this ugly development "was the fact that there were inadequate television stations across the country with enough entertainment contents to satisfy the yearning needs of the viewing public, a development that led content providers to seek alternative."
"Nollywood was a child of necessity" says Professor Ahmed Yerima, theatre artiste and former Artistic Director of The National Troupe of Nigeria. He said: "There were very few television stations and we got to a point where the TV stations that existed needed you, the producer, to get sponsorship for your productions."

The bustling Alaba market is Nigeria`s largest wholesale movie distribution hub. The ground is muddy and tattered posters for love and action films hang between decaying buildings
Movie-theatre going culture
But for Obby Patrick Ebewo, Nigerian born and American based film scholar, "The collapse of movie-theatre going culture in the 1980s caused by incessant harassment of innocent citizen by criminals, the country`s economic downturn and various problems affecting celluloid film production, gave rise to video film."
The implication of this new development, according to Yerima, was that fast thinking and business minded entrepreneurs cashed into the opportunity provided by this yearning need; and aided with the arrival of VHS tapes embarked on a business trial and experimentation that was to transform the continent`s entertainment turf.
Prior to this boom, efforts had been made by some dramatists to evolve a film culture in Nigeria. It is on record that as early as the 1960s` theatre artistes in the mould of Hubert Ogunde, had recorded his plays on celluloid. Other artistes like Moses Adejumo and Duro Ladipo had equally attempted to reduce the cinematic art of film to a more popular medium for social commentary.
In an effort to trace the emergence of Nollywood and the entire film culture in the country, Ebewo argues that "the current video film industry in Nigeria owes a huge debt to the pioneering efforts of Nigerian theatre, particularly practitioners of the Yoruba Travelling theatre, who branched off from mainstream theatre to experiment with celluloid."
However, the Nollywood brand today owes its projection and commercial resourcefulness to Kenneth Nnebue, who according to market consensus, pioneered the raving popular media brand with his movie, Living in Bondage, in 1992. According to unconfirmed sources, since inception, "the industry rakes gross estimate of about 200 million dollars every year with a popularity that cuts across the entire continent of Africa to Europe and North America."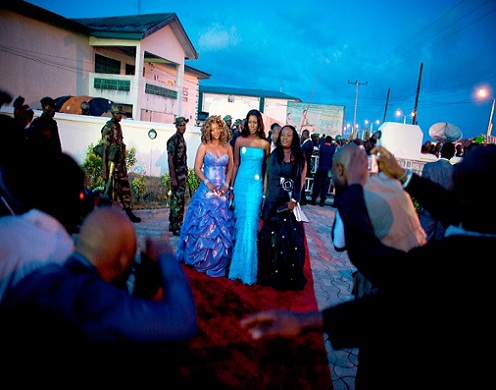 A Nollywood superstar struts down the red carpet: Actress Stephanie Okereke (center).
Popularity of video film
If you ask any person from any part of Africa whether he knows or has heard about the country called Nigeria, he is most likely to answer in the affirmative. When you probe further to know if he understood what you meant, by asking him to mention one landscape feature of significance to identify Nigeria with, you would be shocked when he tells you, Nollywood.
The next thing you may hear him say would be a reel out of names of stars in the industry, and mostly screen markers like Chinedu Ikedieze and Osita Iheme (Aki na Ukwa), Mama Gee, Patience Ozokwo, Toronto Dike, the bad girl of Nollywood, Desmond Elliot, Ramson Noah; the lover boys and some other patron markers like the late Sam Loco, Chinwentalu Agu, Pete Edochie, Enebeli Enebuwa and Alex Usifo.
Some of these characters are the defining screen markers, around which script writers and producers of Nollywood video films weave their arresting stories about African experiences, and experiences that form the thematic template of these video films.
Talking about the popularity of Nigerian video films, Ebewo submits that "Nollywood films are popular in Nigeria because they have indigenous contents and address issues relevant to a mass audience. He adds: "through an amalgam of narrative techniques (African story lines) and western technology, these films document and re-create socio-political and cultural events that occur within and beyond the borders."
Supporting this view, Professor Onookome Okome of the School of English and Film Studies, University of Alberta, Canada states: "in Nigeria, Nollywood is popular because it speaks aspects to aspects of social life that many people live. It speaks to and debates social and cultural anxieties the way no other media had done before."
Also aiding the popularity of the video film in Nigeria is the cheapness of the CD tapes across video shops located in every nook and cranny of the country. Ebewo adds: "The industry has also saved poor Nigerians the cost of procuring expensive films from the West. The price per film ranges from N150 to N200, something short of $100 dollars per film."
Therefore, as a result of the cheapness of the product and its availability coupled with the fact that the thematic narratives of the filmic plots revolve around issues that the mass of people can easily lay claims to, help to endear the industry and its products to the public.
In a nutshell, the popularity of Nigeria`s video film is akin to the popularity enjoyed during the era of the pamphleteering narratives popularly known as Onitsha Market literature; the era that produced such popular titles like Veronica My Daughter, Beware Harlots of Many Friends, Rosemary and the Taxi Driver, Boys and Girls of Nowadays and Drunkards Believe Bar as Heaven. Nollywood films churned out in their thousands address such everyday concerns of the public ranging from subjects as diverse as love, hatred, envy, wickedness, magic, sorcery, bewitchment and such other socio-cultural and religio-political matrix.
Prolificacy of films: Going by market indicators, it is no longer contestable that Nigeria is one of the highest producers of video films in the world. It is said that an average of 50 video films are churned out from different producers every week. This is understandably so going by the fact that producers of Nigerian films go for low or shoe string budgets. "Films can be produced with as little as $10,000", says Ejike Nwankwo, an independent film producer. He adds: "the low budget film makes it possible for us to shoot and complete production as quickly as possible, sometimes within a month or less. But sadly, it affects the quality of productions as everything is hurriedly done."
Added to the problem of low budget films is the problem of inadequate infrastructure that can support the shooting and production of big budget films like Titanic and Passion of the Christ. Comparing the situation between Nigeria and South Africa, Professor Kole Omotosho, who played prominent role in the production of MNET`s popular movie, Jacob`s Cross argues that "in South Africa, there are structures and infrastructure for film producers and there is also a thriving video culture. So both exists unlike in Nigeria, where the infrastructure to produce films in the real sense of the word hardly exists."
With low budget and inadequate infrastructure, movie producers are, therefore, left in the hands of mediocrity and unprofessionalism. It is against this background that one can explain the poor quality of video films produced from annoying scripts and bad technical finishing. Going by this disturbing scenario, movie business in Nigeria has, sadly, become a one man show. And just as Yerima observes "the producer who sits in Aba or Onitsha says what he wants to act in the film and that is how he does his casting."
In the process of making the industry jack of all trade, "technicalities", Omotosho maintains, "is not a question of one person writing the script, doing the directing, doing the set. No, it is a communal thing. Film, theatre, television, these are communal forms which have different roles for everybody."
Nollywood: Television drama or film?
As popular as Nigeria`s Nollywood has become, can it now be said that the country is qualified to be described as a film nation? It is still doubtful whether through all that have been done and achieved so far one can come to that glorious conclusion.
By applying all the film aesthetic standards, is it also possible to say, yea, Nigeria is now one of them? A country that can boast of the types of Danny Clover, Samuel Jackson or Denzel Washington, all renowned world film makers and producers? Regarding this issue, both scholars and industry players agree that a lot still needs to be done for the nation`s Nollywood to be accepted into the global hall of fame. Not until then can the Nigerian film begin to take stand at such prestigious films fora like Cannes Film Festival, Oscar and Emi Awards.
Blurring any hope of launching into global acceptance in the near future, Yerima argues that Nigeria`s video film is at best a television drama, which explains why most of the movies are shot in episodes. He said: "I doubt whether what we describe as the Nigerian film can be described as film in Europe and America. They will rather call it television drama or documentary. They were originally T.V. series. They were to be serialized. Because the market was there, they now got encouraged not to go to TV houses any more. So from TV drama series, they became movies."
Nollywood and representation: In the 20 years existence of Nollywood in Nigeria, the industry has been trailed with some disturbing criticisms. Despite the criticism about poor quality productions, which has been explained to be as a result of low budget and poor infrastructure, the industry is also accused of playing into the antics of western etiquettes by portraying in many of the movies the continent as a backward one.
Nollywood movies are said to be replete with images of cultic, voodoo and fetish re-enactments that do not in any way represent African practices of the present generation. Another critical issue that has come under serious fire of criticism is the question of gender imbalance in movie narratology. Opinions and recent discourses reveal that scripts and directional interpretation of Nollywood movies still follow the patriarchal order and, therefore, favours men over the women.
"Ninety five per cent of the video films down play the liberating and positive roles of women. Women characters are cast in such ways that they are either made appendages to men, object of sexual gratification or lust. I think it is time Nollywood re-told the narrative of the woman in the light of contemporary achievements," says Ejim Omalicha.
Reacting to negative representation given to the continent`s religious and cultural ethos, Professor Gbaazi Uko, a cultural anthropologist said: "The idea of constantly casting the continent in the Conradian mode is bad. It does not help to fight our cause. Why would it be that both the writers and producers of these scripts insist that western values would always prevail over the indigenous ones. Who are they trying to please?"
For these aggrieved scholars and the entire viewing public, Nollywood may not have told the world the whole truth about Africa. But it has all the same done a lot to project the image of the continent across the globe. For these people, the industry should strive, as Sandra Obiago argues, and "enable the world to continue to see Africa, as unbelievably beautiful."
Back to big screen
In several quarters, involvement of producers in low budget films has been identified as one of the greatest banes militating against this fast rising industry. The poor quality of films experienced from the industry as well as the hurriedness with which these movies are shot and produced have all been attributed to low budgets.
Nollywood films apart from being produced with shoe-string budgets ranging from $10,000 to $15,000 are also hurriedly done in less than ten days, and equally devoid of premiere, which is the only professional way of introducing a new movie to the viewing public. Says Ibiwikari Nengi: "When films are premiered and first viewed in cinemas, it makes it a lot easier for the producers to reap profit from their investments and also helps to checkmate piracy, which tries very hard to undermine the interest of producers."
It is, therefore, heart warming to note the decision of some industry players who go for big budget films and have also concluded to return movies to the big screen. One industry source, who would not want to be mentioned told this reporter that "Stephanie Okereke`s award winning movie, Through the Glass, grossed well over N10 million in two weeks after it premiered at Silverbird Cinema, Lagos, last year."
Apart from enjoying economy of scale provided by big budget films, the effort also helped in bringing international touch to the previously domesticated industry by also incorporating international actors and actress into the entire enterprise. Okereke`s movie was also said to have premiered in America, where it was shot and had in its cast Hollywood stars as well as Ghanaian and Kenyan stars.
Other producers that have toed the line of producing big budget films are Emen Isong, who jointly produced Guilty Pleasure with Desmond Elliot and Uche Jombo; and Mahmood Ali Balogun, who produced Tango With Me.
Piracy as challenge
With all these litanies of achievements recorded in the industry, can it also be said that all is rosy for the movie industry in Nigeria? No. That is far from the truth. The movie industry in Nigeria, like in all other creative industries, suffers the hard bite of piracy and copyright infringements.
Reports have it that Nigeria loses an estimated $50 million annually to international piracy of Nigerian movies and films in America, Canada and African countries. This sad situation is worsened by the fact that the existing distribution system has been stretched to the limit, which makes it impossible to satisfy the ever growing need of Nollywood audience.
The absence of a structured and wide distribution network has equally accelerated the incidence of piracy and encouraged bootleggers whose activities magnify as the distribution problem worsens.
© 2012 AllAfrica, All Rights Reserved
Opinion
Does Nollywood Promote Culture of Immorality?
by Clement Adebayo Oloyede
April 19, 2012

Nollyworrd plots hinge on family, love and honor, AIDS, prostitution, oil, ghosts and cannibals. In other words, films about Africa.
Apr 19, 2012 (Daily Trust/All Africa Global Media) -- An Islamic cleric, Imam Memood Mushood, while urging Nigerian actresses to teach morals through their acting in a chat with nigeriafilms.com, was quoted as saying "... these actresses are talented, no doubt about that, but what we expect them to teach young ladies in the society is not what they are doing.
Most ladies of this generation don`t attend lectures where they can hear the word of God, but they watch films which have a lot of influence on them. That is why the actors have a vital role to play in reshaping our society."
There were times when promiscuous dressing in Nigerian movies used to be indecency and immorality, but today, without doubt, such dressing have become a fashion trend. Not that alone, it has come to represent some form of civilization. This brings nothing but derisive laughter. Those that have not been swept away by this torrent of decadence cannot but ask: where is civilization in eroding out good culture with unfamiliar, foreign and alien culture?
Those were the good old days when we would watch Saint Obi, Olu Jacobs, Pete Edochie, Joke Silva and Eucharia Anunobi, to mention but a few, and deduce significant lessons from not just their actions and messages, but even from their sense of dressing. The aura of sophistication, yet with the apparent modesty they portend, cannot be easily erased from our memories.
These days for instance, Nigerian films with the two famous actors popularly (some would say notoriously) referred to as "Aki and Pawpaw", are usually films that teach people, especially kids, how to play tricks through dubious means; telling lies, bullying and sometimes total disrespect for the elderly in society. Such films when shown on television mostly viewed by the youth and little kids, eventually teach the young in society bad morals. Examples of such films include, "Baby Police", "Green Snake", and "Show Bobo", just to mention a few.
The present collaboration between Nigerian and Ghanaian movie industries is not helping matters either. It has even augmented the proliferation of decadence perpetuated by their inglorious productions. Now, competition between the two movie industries is doing nothing substantially beneficial; rather it is escalating the unacceptable standards of immorality and indecency in the country.
Some of us still reminisce about the good old days when parents and their young siblings would sit together in their living room and watch a Nigerian movie. Today, how many of such morally uplifting movies are in the industry? Or as a parent, would you sit down and watch, say "Four Can Play" together with your children? Or can we as siblings watch, say "Game" together with our parents? With or without allusions, the fact lies right in our front and if we won`t deceive ourselves, we can and we will see it!

Victoria, an aspiring actress, is one of many seeking fame and fortune. The film industry is Nigeria`s second biggest employer after the oil sector.
Today, it is hard to fathom the differences that exist between some scenes in some Nigerian movies and some amateur pornographic movies. Let us face the fact: some Nigerian movies depict more body- exposure scenes than some Hollywood movies. And for those that seek comparison between Nollywood and Hollywood movies, we should ask them what about the disparities in our cultures, norms and values?
In a world where children are exposed to immorality from a tender age, the least expected from the movie industries is not to pollute the environment with more obscenity and uncouth trends in the name of civilisation.
Imitation of action films as portrayed by American movies is another area where the Nigerian movie industry has gotten it wrong. Much glorification is accorded to persons that grow up in dunghills, usually the Bronx, or some other ghetto, but find their way to affluence regardless of the means used in accruing such ill-gotten wealth. A lucid example is a case where a character had been exposed to abject poverty but somehow now happens to find a quick-way-out, mostly through armed robbery, drug trafficking or rituals.
Although, the movie might sometimes try to point out the perils of such act by depicting what such persons might encounter later in life (more like karma). However, what sticks in the memory of an average poverty-stricken viewer is the affluence gotten through the short-cut route. After all, it is clear that such characters will always find a way out of the perils that will befall them later as a result of their means of accruing such wealth. That is what Nigerian movies teach us. That no matter the magnitude of your evil, when you repent, there is always a way out. In reality however, how many people get the chance of repenting and turning a new leaf?
The writer is of the Department of Mass Communication, Bayero University, Kano.
© 2012 AllAfrica, All Rights Reserved
Africa Dispatch: Where Nigeria`s Beautiful People Go...for Springrolls
By Will Connors
The Wall Street Journal
June 03, 2010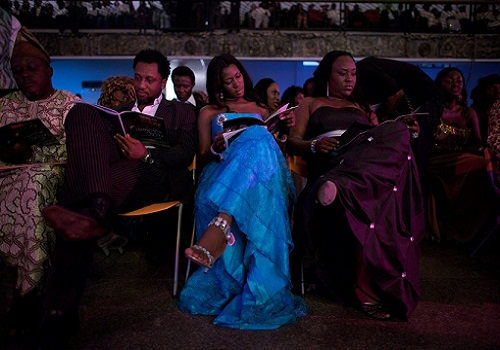 Nollywood superstar Stephanie Okereke (center) at Nollywood`s answer to the Oscars: The African Movie Academy Awards
LAGOS, Nigeria—The restaurant manager, a tall, skinny Chinese woman named Queen Sun, hurried between tables while admonishing a group of slow-moving waiters.
We had just settled in at Ojez, a Chinese restaurant and bar well known for its live music, springrolls and stars from Nollywood.
Nollywood? Nollywood is the second-largest film industry in the world and only trails India`s Bollywood in terms of numbers of movies produced each year. And Ojez is one of their favorite meeting spots, where actors and directors mingle with producers to pitch themselves or their ideas. Deals are agreed upon informally, as with many things in Lagos, the high-energy entrepreneurial heart of Africa.
In 2006, Nollywood shot nearly 900 movies, almost all straight-to-video. The figure was nearly double Hollywood`s total for the same year. Currently, around 40 movies are shot every month in Lagos, not counting the dozens of television dramas that are also filmed here. The industry, which generates an estimated $250 million a year, is popular throughout Africa and immigrant enclaves in Europe and the U.S.
Upstairs at Ojez, musicians and a few aspiring Nollywood stars were hanging out. Jazz was playing on the speaker system in the main room. The walls were dark red and the lighting yellow. Patrons drank beer and ate fried rice.
The last Sunday of the month at Ojez is when the big-name actors congregate and pitch their movie ideas to producers and directors. As I scanned the room I realized that this was just the second Sunday of the month, and the biggest stars wouldn`t be there.
But then I saw a legend near the empty stage: Fatai Rolling Dollar.
Mr. Rolling Dollar, an eighty-something guitarist and singer, was sitting at a table with two long-legged young women. He wasn`t performing that night but was dressed in his usual outfit: black beret, white sunglasses, bright shirt open at the collar, narrow-pointed leather shoes. Mr. Rolling Dollar plays high-life music, a West African genre that blends blues, rock and indigenous rhythms and was popular in the 1960s and 1970s.
Though record deals and live gigs are rare these days for many artists of his generation, Mr. Rolling Dollar seemed to be doing fine. When I walked over to introduce myself and to tell him that I was a fan, he was getting up to leave. He shook my hand—firm grip, callused palms—and walked out with one woman on each arm. People say he has more than thirty children.
Through the evening, Queen Sun, the Chinese manager, chided her patrons—with a wink and a smile—for not drinking or eating enough. When a table of young men asked for just one order of spring rolls, she bristled and threatened to not bring them any more Guinness Stout.
Then she came over to take my order. I wasn`t hungry, but didn`t dare defy Queen Sun. I ordered a plate of spring rolls.
Each week, Africa Dispatch will take a snapshot of a different African place, offering a ground-level view of change on the continent.
© Copyright 2010 Dow Jones & Company, Inc. All Rights Reserved.

Famutsa Film Productions shopkeeper Victor Edwin sells films in Lagos. At least 900 films was produced in Nigeria in 2010, twice as many as in Hollywood.