THAT`s Dictators` Wives And Girlfriends
Keir Mudie
People
August 05, 2012
You know the WAGS...now meet the more sinister DWAGS
BIG-money footballers` wives have lifestyles to die for - an expression that takes on a chilling meaning with these Wags.
The women who have married the world`s most vile dictators can enjoy luxury beyond our wildest dreams... often at the expense of the suffering of thousands.
While their subjects live in misery and abject poverty, the glamorous first ladies indulge in lavish spending sprees. Women such as Leila Ben Ali, 55, the hated president`s wife who helped spark the Arab Spring in Tunisia last year. She was toppled in her homeland but skulked away with £37.5million.
Here, with the fate of tragic Syria in the balance, we look at others like her.

Uganda`s President Idi Amin, centre, and his wife, Sarah, leave the Grand Hotel in Rome
DICTATOR Idi Amin`s fifth and favourite wife was nicknamed Suicide Sarah because she was a sexy go-go dancer in the Ugandan army`s Revolutionary Suicide Mechanised Regiment Band. That was typical of the strange and dangerous world overseen by one of the most monstrous leaders ever.
The boyfriend who Sarah was living with before she met Amin vanished and was never heard from again Amin was 50 and she was 20 when they were married in a lavish ceremony in Uganda in 1975 which cost more than £2million. The dictator cut the cake with huge ceremonial sword. The best man was Yasser Arafat. During Amin`s terrifying dictatorship, 1971 to 1979, he fed opponents to his pet crocodiles. His ego was boundless and the title he gave himself was: His Excellency, President for Life, Field Marshal Al Hadji Doctor Idi Amin Dada, VC, DSO, MC, Lord of All the Beasts of the Earth and Fishes of the Seas and Conqueror of the British Empire in Africa in General and Uganda in Particular. He also claimed to be king of Scotland.
Sarah fled with him to Libya after an uprising then escaped his clutches by fleeing to Germany.
She worked as a lingerie model then moved to London. In 1999 she was fined for a cockroach problem in the cafe she ran. She is thought to be an events organiser in the capital.

Zimbabwe`s President Robert Mugabe (L) and his wife Grace (R) arrive for the inauguration of South Africa`s fourth President Jacob Zuma in Pretoria on May 10, 2009. Zuma seized the legacy of reconciliation laid down by icon Nelson Mandela, vowing in his inaugural speech today to defend democracy and reunite the country after years of divisive politics. GETTY
More like the First Shopper!
YOU would never think Grace was first lady of one of the poorest countries.
The Zimbabwe president`s wife is infamous for her shopping sprees in which she visits all the world`s luxury destinations.
Along with Robert Mugabe, 88, who she married in 1996, she is a regular guest at some of the most exclusive hotels and restaurants.
Grace, 47, blew £75,000 in a shopping spree on a 2003 trip to Paris.
In Zimbabwe she is known as Gucci Grace or The First Shopper because of her Leader lavish spending. But her wealth comes at a terrible price. Cables exposed by Wikileaks allege that "Dis-Grace" and her husband have "reaped tremendous profits" from diamond mines where thousands of people toil in a climate of abuse and violence.
Married to an aging husband, Grace is also suspected of a series of affairs.
But judging by reports it would be unwise to woo her. Sources say one lover, Peter Pamire died in a car crash. Another, businessman James Makamba, fled the country when rumbled.

Britain is attempting to target Col Muammar Gaddafi`s wife with UN sanctions, fearing her multi-billion dollar fortune could be used to bolster her husband`s rule and attacks on civilians. Picture: REX FEATURES
Safia Farkash
THE mother of seven of Colonel Gaddafi`s eight children, Safia Farkash must have been good at turning a blind eye.
She said: "If I thought he was a terrorist I would not stay with him." But by the time he died last October, aged 69, Safia had fled to Algeria with daughter Ayesha, 36. Now Saifa, 60, who owns an airline, has an estimated personal wealth of £20BILLION.

Former Philippine first lady Imelda Marcos, widow of the late dictator Ferdinand Marcos, views a controversial art piece on exhibit at the government-owned Cultural Centre of the Philippines (CCP) in Manila on August 8, 2011. GETTY
2,700 pairs of shoes in a monster spree
THE wife of the former Philippines dictator became notorious for her vast collection of shoes after the couple were kicked out in 1986.
A former beauty queen born into a penniless family, she collected 2,700 pairs.
Imelda, 83, made up for her poor upbringing by spending lavishly.
She and hubby Ferdinand fled to Hawaii in 1986 with billions of dollars in cash and gold.
They owned luxury properties around the world. Ferdinand died in exile in 1989 aged 72. She beat fraud and racketeering charges in the US in 1990 but spent 20 years fighting demands to return millions to the Philippines.

Egypt`s First Lady, Suzanne Mubarak, smiles as she arrives for the Stop Human Trafficking Now forum in Luxor, southern Egypt December 11, 2010. REUTERS
`Crimes against state` rap
THE wife of the "Last Pharaoh" Hosni Mubarak, 84, was first lady of Egypt until they were ousted in February 2011.
While 40 per cent of Egyptians were toiling for less than £1.20 a day Suzanne, 71, built up a nest egg of £3million.
She also dipped into her husband`s £26BILLION fortune. Suzanne has had to put her shopaholic lifestyle on hold as she is being investigated for crimes against the state.
Her father, an Egyptian surgeon, studied in Cardiff and Suzanne`s mother was nurse Lily May Palmer, from Pontypridd.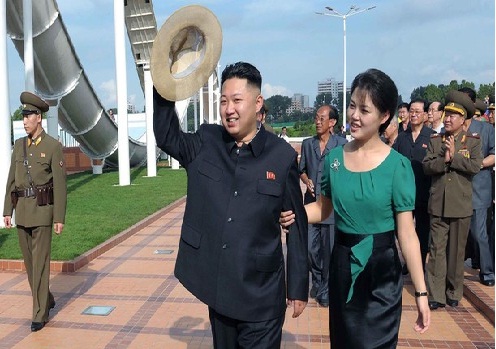 In this Wednesday, July 25, 2012 photo released by the Korean Central News Agency (KCNA) and distributed in Tokyo by the Korea News Service Thursday, July 26, 2012, North Korean leader Kim Jong Un, center, accompanied by his wife Ri Sol Ju, right, waves to the crowd as they inspect the Rungna People`s Pleasure Ground in Pyongyang. AP PHOTO
A dash of colour in drabbest state
IF the world`s youngest dictator Kim Jong-un, 28, had a lavish wedding the rest of the world was not even treated to one photo.
North Korea`s state media merely announced last month that he was married - to Ri Sol-ju.
We were told she is 27 and stands 5ft 4ins. Some sources say they could have been married in 2009 and had a baby in 2010. It has been noticed that Ri, a singer, has spurned drab monotone uniforms and prefers chic and colourful Western-style outfits. But she has a long way to go before she is in the Marcos league. A recent date with her hubby was a memorial visit to the tomb of leader Kim Il-sung.

Syrian dictator Dr. Asad with his wife Asma. Photo Credit: Photo News
`Di of East` spent as killing raged
SIX months ago Syria`s first lady was basking in her caring and stylish image as if she was a Princess Diana of the eastern Mediterranean.
Today the reputation of Asma, wife of hated Bashar al-Assad, 46, is in tatters.
Asma, 36, is renowned for her spending in a dictatorship where most of the population has been living in miserable poverty.
She snapped up artworks worth £35,000 at a London dealer while war raged on Syria`s streets. Asma can`t plead ignorance. She was born and educated in London and has a science degree from King`s College. As blood flowed in her shattered homeland she was eyeing up a pair of £6,000 crystal studded designer shoes.
And she was in talks for a bespoke marble-topped table worth £6,257. Earlier this year she said her charity work gave her a "very busy agenda" and she was comforting the victims of the uprising.
But intercepted emails showed that as her husband`s tanks were shelling protesters she was more concerned with online shopping.
She spent tens of thousands and there was a "steady flow of invoices from Chelsea cabinet makers and Parisian interior-design stores".
Asma has not been seen in Syria since a bomb killed several top brass last month. Rumours she has fled to Russia have been denied.
© 2012 Mirror Group Ltd.
The Women Behind The Dictators
The Australian Women`s Weekly
May 01, 2012
There is a horrifying reality show beamed from the killing fields of the Middle East. It is called Desperate Dictators` Wives and stars one Asma al-Assad, writes Emma-Kate Symons.
SHE IS BEING dubbed the Marie Antoinette of the Middle East, or Asma al-Antoinette. The latest in a long line of glamorous yet desperate dictators` wives, Asma al-Assad was a modern-day style icon feted by glossy fashion magazines, presidents and Hollywood royalty - until she became the most detested symbol of the decadence and brutal repression of the Arab Spring.
Once hailed as the chic symbol of modernisation in a notorious police state, the former dining companion of Angelina Jolie and Brad Pitt has emerged as one of the most repulsive figures among the cast of despots and their power-hungry, luxury-loving wives filling the drama of the bloody Middle East movements for freedom.
It was her unfailing devotion to her rogue husband, Syrian President Bashar al-Assad, the butcher behind the torture and murder of thousands of opposition activists - ordinary women, men and children - and journalists over the past year, that proved Asma`s undoing. That unquestioned loyalty - and an addiction to Christian Louboutin jewel-encrusted heels.
With the leaking by Syrian opposition members of thousands of incriminating emails sent by 36-year-old Asma and her husband and their entourage, the world witnessed first-hand the reality of the regime`s penchant for high spending, online shopping and downloading of country and western music and `80s schlock pop amid the massacres.
As al-Assad`s thugs raped, tortured, murdered and razed much of the opposition stronghold city of Homs - where Asma`s family comes from - the first lady was in the grip of an e-shopping frenzy. Callous to the plight of her countrymen and women, she did not harangue her hubby via email about his crimes against humanity. Instead, she discussed with a friend the merits of an investment in a pair of crystal-encrusted Louboutin stilettos selling for about $7200.
"Does anything catch your eye?" Asma asks in one of her email exchanges. "These pieces are not made for the general public," she adds, revealing her preference for made-to-measure or "bespoke" items.
The reply from her seemingly more switched-on correspondent is one of the few indirect references to the world outside the high-roller spending sprees of the al-Assads` entourage, "They`re not going 2 b useful any time soon unfortunately".
Other Asma purchases - her email nickname was simply "aaa" - revealed in the email stash included a $4097 vase from Harrods, luxury jewellery from Paris, ordered via a friend visiting there, a $10,000 made-to-order marble-topped table, candlesticks, chandeliers and even a hurried search for a Harry Potter DVD.
"I am absolutely clueless when it comes to ine jewellery," Asma admits, as she waits for her cousin to pick up a clutch of gold, onyx and diamond necklaces from Paris. "Kisses to you both and don`t worry, we are well." In one of the more bizarre exchanges between Asma and her husband, he shared the lyrics of a sentimental country and western song by American singer Blake Shelton.
He wrote, "I`ve been a walking heartache/I`ve made a mess of me/ The person that I`ve been lately/ Ain`t who I wanna be."
While Asma purchased everything from pricey chocolate fondue sets to more bespoke bedside tables, coffee tables - plus one practical item, a bulletproof jacket - hubby was downloading favourite `80s and `90s tunes from New Order and Right Said Fred (I`m Too Sexy).
The al-Assad emails, published first in the UK`s The Guardian newspaper, went global and the outrage was instant. Within days, the EU and Britain had cancelled Asma`s coveted credit cards.
They banned her and the al-Assad regime from even covert online spending sprees, seized their assets, outlawed any travel to continental Europe and reportedly began moves to strip the daughter of a diplomat and a surgeon of her British citizenship, a move that would mean she cannot even travel to the country of her birth.
The highly educated haute couture wearing fashion plate has had tough competition in the stakes for most disgustingly decadent dictator`s wife. Comparisons were inevitably made with another shoe fetishist dictator`s wife, Imelda Marcos of the Philippines, Argentina`s Eva "Evita" Peron and even Romania`s Elena Ceausescu.
Yet, in contemporary times, before Asma`s fall from grace, the Arab Spring had thrown up the hated identity of Tunisia`s Leila Trabelsi, the pillaging second wife of repressive former president Ben Ali.
Leila, a rapacious and corrupt "conjugal" dictator, pulled the purse and power strings for her ailing husband before they were literally chased from their palaces by enraged mobs and forced to lee to Saudi Arabia in early 2011. In the years leading up to their sudden violent removal from power, Leila had amassed a huge fortune for herself and her family.
Egypt`s former first lady, Suzanne Mubarak, came in for similar attacks as the atrocities and excesses of her husband, Hosni Mubarak, and his goons came under ire from protesters. Now, even Queen Rania, the wife of King Abdullah of Jordan, one of the region`s most "benign" dictators, is watching her back.
In the Syrian capital of Damascus, Asma remains in her gilded cage, for the moment, as her husband and his murderous henchmen cling on to power through brute force and indiscriminate killing of any dissenters.
Yet Western style authorities, such as US Vogue and French Elle, as well as Brangelina and French President Nicolas Sarkozy and his wife, Carla Bruni, should be asking themselves how they were so fooled by Asma`s lawless fashion sense.
With her perfect upper-class British accent, her education at King`s College London and former career as a banker, how could this thoroughly modern woman really be sleeping with a monster?
Or as President Sarkozy protested, "With a wife as modern as his, he can`t be completely bad."
In perhaps the most shameful incident of fashion-forward fawning over dictator chic, last March, just as the bloody crackdown on dissenters was beginning in Syria, US Vogue published a gushing Asma profile, since deleted from its website.
Asma`s tireless work for charities, "democratic" approach to parenting and inimitable style were celebrated in an article that celebrated her as the "desert rose" and "freshest and most magnetic of first ladies``.
Perhaps Asma was having us all on, with her external displays of so-called good luxury taste and platitudes about peace and democracy, while her country burned and its people were murdered. Silent during last year`s internationally condemned attacks on protesters and under pressure to exercise some influence for change over her bloodthirsty husband, Asma burst forth with an unexpected email to London`s The Times, professing full support for her spouse and his actions.
At least she has put her mouth where her money is. Now, wedded to tyranny and its ill-gotten spoils, Asma must await her fate. The destinies of Lady Macbeth, Marie Antoinette, Elena Ceausescu or Leila Trabelsi would not ill her with hope.
© The Australian Women`s Weekly © 2012 ACP Publishing Pty Ltd. All rights reserved.
Dictators` wives are like mothers to their people – crazy, callous mothers
ELIZABETH RENZETTI
The Globe and Mail
March 17, 2012
It seems that Asma al-Assad, wife of Syrian President Bashar, found an effective way to preoccupy herself during the bloody bombardment of Homs: She went online shopping. So, while the United Nations was compiling reports that Syrian children had been raped, tortured and murdered by security forces, Ms. al-Assad, a British-born former banker, was deciding whether she wanted a pair of crystal-encrusted Louboutin sneakers ($2,100) or the spike-toed stilettos for $1,400.
Maybe Bashar leaned over her shoulder and said, "Get both, darling. It`s not like anyone`s vetting my expense account." Then he toddled off to his computer to buy a Harry Potter film, a Cliff Richard tribute CD and some songs by Right Said Fred. (You will remember them for being too sexy for their shirts.) Nothing relieves tension at the end of a long day of atrocities like a bit of easy listening.
The al-Assads` exuberance for online consumption is contained in a cache of 3,000 e-mails hijacked by Syrian opposition activists and released by the Guardian newspaper this week. The Syrian government, of course, claims the e-mails are a hoax, and when you look at them it`s tempting to agree, because they read like Shopaholic Goes to Damascus and Loses Her Marbles. Who buys a fondue pot or a $10,000 marble-topped table when, nearby, her country`s doctors and nurses are being beaten and jailed for treating wounded neighbours?
Oh, that`s right. Dictators and their families, that`s who. I`d almost forgotten Saddam Hussein`s multiple palaces and gold bathroom faucets, and his taste for art of the Frank Frazetta school, where bosomy chained wenches cower before dragons.
It`s the kleptocrat`s family members who are truly embarrassing: Annoyed at his son Uday (who had perhaps been clumsy with the red-hot pincers), Saddam set fire to Uday`s fleet of 100 sports cars. And, as the Financial Times reported this week, only Moammar Gadhafi`s death prevented his son Hannibal from realizing his dream of launching a cruise ship with six sharks swimming in a tank against a tasteful backdrop of gilt mirrors and marble pillars. I ask you: Just how many extra pairs of underwear would you have to pack to embark on Hannibal Gadhafi`s cruise of many sharks?
In the end, though, it`s the women who get the blame: Dictators` wives form a sort of First Witches Club, with Mercedes in place of brooms. When it`s too dangerous to criticize the men in power, they become the target for an entire population`s loathing. Ms. al-Assad, with her preoccupation with Harrods sales and gaudy candelabras, now forms an unholy Arab Spring trio with Leila Ben Ali, the despised first lady of Tunisia, said to have fled the country with millions in gold bricks, and Suzanne Mubarak, the well-manicured hand up the back of the Hosni puppet.
You have to wonder what provokes the intensity of the loathing, and ask if it`s not in proportion to the betrayal their people felt. Their strongman husbands might be brutal to their own citizens, but the wives, perhaps, were expected to be a softening influence – a buffer between the tyrant and his targets.
It`s amazing how often dictators` wives style themselves as the mother of their people, thus worsening the betrayal when they turn out to be more Joan Crawford than Ma Walton. The late, unlamented Elena Ceausescu was "the best mother of Romania" and "mother of the fatherland," even as she was forcing the country into penury while racking up a closet of fur coats. (Her coats and hats were sent to a Romanian leper hospital after her execution, which should have been a useful illustration for future First Witches.)
Imelda Marcos, whose helium voice was meant to distract from her cash-register eyes, called herself "mother and first lady of the Philippines." In fact, a painting titled Motherland was unveiled in the Philippines last year, with a glamorous young Imelda collecting the halt and the lame to her, like the lovechild of Joan Collins and St. Francis of Assisi. It`s easy to laugh at Imelda, of course, and to be fascinated. (David Byrne and Norman Cook are creating an opera about her.) It`s harder to remember that she and her husband used the Philippines as their personal piggy bank.
Asma al-Assad was supposed to be a mother to her people, too: a hot yummy mummy, but still. She championed a children`s charity that was meant to teach young Syrians civic engagement. (I could barely believe it either.) But that was before the uprising in Homs – her father`s hometown, incidentally. After that she seems to have cocooned herself in online retail therapy. Because in cyberspace, you can`t hear anyone scream.
© 2012 The Globe and Mail Inc. All Rights Reserved.

Tunisian President Zine El Abidine Ben Ali `s wife Leila waves to wellwishers ahead of his husband `s speech at the start of the presidential election campaign on October 11, 2009 in Rades stadium near Tunis.