Can a new government end the violence in Somalia?
Deutsche Welle
August 17, 2012

Transitional Federal Government of Somalia president Sheikh Sharif Ahmed (C) speaks next to speaker of the Transitional Federal Government Shariff Hasan (L) and Somali Prime Minister Abdiweli Mohamed on June 22, 2012 in Nairobi at the venue of the meeting of the signitories of the roadmap for ending the transition in Somalia. GETTY
Somalia is due to have a new government as the mandate of the transitional regime runs out. Many Somalis are not convinced that peace and stability will now return to their civil war-torn country.
It`s late afternoon in Nairobi`s Eastleigh district. Traders are selling fruit and vegetables, clothes, shoes and leather-ware. There are many stalls piled high with suitcases and bags. There is a big demand for these as Eastleigh is populated almost entirely by Somalis. Many fled to Kenya years ago to escape the war in their homeland and have built a new life for themselves. Many travel regularly between Kenya and Somalia.
Now Somalia is to have a new president and a "proper" government for the first time in over two decades, but the Somalis in Eastleigh are not rushing to pack their bags, says Abukar Sheikh Ali, manager of the "Bin Ali" Hotel. The hotel only opened on July 1, 2012.
"We have another, bigger hotel in Mogadishu that`s not functioning because Ethiopian troops destroyed it " says Sheikh Ali. He`s sitting in his office, outside snatches of conversation in the Somali language can be heard. A TV set is on, showing a Somali program. "We`ve reconstructed the hotel," Sheik Ali says "but we haven`t reopened it because the area is not as secure as we would like."
Need for jobs
Sheikh Ali has an extended family of about 100 relatives. They not only own property in Nairobi and Mogadishu, but have business interests in Djibouti, Dubai, Somaliland, South Sudan and Uganda. In many places they are doing well but they have lost a great deal of money in Mogadishu - 16 million dollars (13 million euros), says Abukar Sheikh Ali. Not only was the hotel badly damaged, but offices were looted. The hotel stood in west Mogadishu, but Sheikh Ali says the situation is only relatively safe around the airport. "That`s where the president lives, where the ministers live." In other areas, members of the Islamist militia al-Shabab are active.
The Somali hotel manager doesn`t believe the situation will change dramatically with the election of a new president and the end of the transitional government, originally scheduled for August 20, 2012. "There can only be real security in Mogadishu when people have work that replaces the use of the gun," he says. But that can only happen if many companies from abroad come to Somalia, build factories and create new jobs, he adds.
New government, same old faces
Most of the residents of Eastleigh think the same way as Abukar Sheikh Ali and view developments in Somalia with considerable scepticism. Emmanuel Kisangani is also not overly optimistic regarding the end of the transitional government. He is a political analyst in the Nairobi office of the Institute for Security Studies (ISS).
"If you look at those people in power, they`re still trying to repackage themselves to retain power. The likely scenario is us seeing the same people who are in the transitional government and who have been accused of, among other things, insurmountable corruption, and so we are likely to witness a case where these people remain in office," Kisangani said.
These politicians have lost the trust of the majority of the population. One reason why they will probably remain in power is their wealth. Under the transitional government, money played a large role, with influential posts going to those who could pay the most. Abukar Sheikh Ali believes that things can only get better. And while he says most people don`t expect the new government to live up to their expectations, "a bad government is better than no government at all."
© 2012. Deutsche Welle.
Somalia`s new government: change of name, same old game
Peter Martell
Agence France Presse
August 17, 2012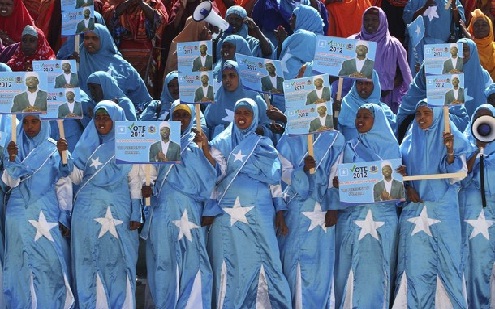 Women holding campaign posters in support of Somali President Sheikh Sharif Sheikh Ahmed join in celebrations to mark the first year anniversary since the ouster of militant Al Shabaab fighters from the capital Mogadishu August 6, 2012. REUTERS
Somalia`s transitional government ends its mandate next week after eight years of infighting, little progress and rampant corruption, but the process to replace it is "deeply flawed", analysts warn.
Set up in 2004, the Western-funded Transitional Federal Government (TFG) has already extended its mandate twice, and international backers have been determined it ends by an August 20 deadline.
But analysts are gloomy that a United Nations-backed selection process will usher in nothing more than a reshuffle of leaders already fingered for graft, risking an even further fragmentation of power into the hands of local warlords.
"This is not a process: it is a power-grab by any means," said Afyare Elmi, a Somali academic at Qatar University, adding he did not see "a substantive change taking place."
"It is deeply flawed. The process is being manipulated... (parliamentary) seats are going to the highest bidders," Elmi added. "My fear is that this might lead to a new cycle of communal violence."
The UN Special Representative for Somalia Augustine Mahiga holds optimistically that after August, the Horn of Africa nation will be "more peaceful, more stable and more established in terms of democratic governance."
But the process is much criticised: the UN, African Union and East Africa`s main diplomatic body IGAD warned last week that political leaders were using "bribery, intimidation (and) violence" to rig the selection of lawmakers.
"No mechanisms for accountability have been put in place to try to minimize spoilers` involvement," said Laura Hammond of Britain`s School of Oriental and African Studies (SOAS).
"The process has become entirely corrupted - the Constituent Assembly was chosen under dubious conditions, the new constitution was rubber-stamped, and the parliamentary seats are being distributed to the highest bidders," she said.
Delays to the Monday deadline are almost certain, said Roland Marchal of the Paris-based National Centre for Scientific Research.
But while a delay of a few days may be "nothing scandalous", Marchal notes far deeper problems in the process, criticising international efforts as having focused on deadlines rather than content.
"The international community should have fought for the process and values, but in the end fought only to get a constitution" on time, Marchal said.
Experts say the selection of a new government -- the latest only in a string of peace efforts in the Horn of Africa nation, at war ever since dictator Siad Barre was toppled in 1991 -- will change little on the ground.
"Unless something dramatic happens in the next week, I do not expect the new government to look much different than the old one," said Hammond.
"It may be called a Provisional Government rather than a Transitional one, but it is likely to be led by the same individuals and perhaps more importantly, by the same interests.
"If this happens, there is not much hope for tackling problems like the widely reported corruption or the holding of power by a few key individuals."
Massive step forwards have been made in Somalia, with greatly improved security in the capital and members of the diaspora returning to invest in their war-ravaged homeland.
Until Al-Qaeda linked Shebab insurgents fled fixed positions in the capital last year -- switching to guerrilla tactics including suicide bomb attacks -- the divided government controlled only a few city blocks of Mogadishu.
Today, some 17,000 African Union troops, Ethiopian soldiers and government forces -- the vast majority a ragtag coalition of militia forces, unified only in opposition to the Shebab -- have made significant territorial gains.
But extending control of the future government over the areas where the Shebab have been forced out will be a key challenge for the new government.
"The question of whether or not people in the so-called `liberated areas` will want to accept the new government, if it is not seen as having been legitimately formed, is crucial," Hammond added.
"They may choose to continue supporting Al-Shebab clandestinely, or to try to forge their own form of local government. This could result in fragmentation of parts of southern Somalia and ultimately could mean further fighting."
And while people are desperate for peace after two decades of conflict, many leaders "have done well out of the country`s flourishing war economy," notes Mary Harper, a BBC reporter and author of a recent book on Somalia.
"Until they decide there is more to gain from peace than war, it is probable that some parts of the country will continue to be affected by violence and instability for some time to come," Harper wrote in a recent paper.
© Copyright Agence France-Presse, 2012 All reproduction and presentation rights reserved.
AU mission in Somalia says to be impartial during presidential election
SongChen
Xinhua News Agency
August 17, 2012
MOGADISHU, Aug. 17 (Xinhua) -- The African Union peacekeeping mission in Somalia (AMISOM) said it is impartial during the presidential election and called on local forces to respect the right of all candidates to conduct peaceful campaigns.
Somalia is preparing for a presidential election later in the month in which key Somali leaders and other politicians are vying for the top job and candidates have been carrying out various campaigns in Mogadishu.
Boubacar Diarra, special envoy of the AU Commission to Somalia urged other Somali forces to ensure that all citizens can enjoy their rights to peaceful assembly and expression.
"As part of this effort, we are deploying extra troops and police .. into Mogadishu and are working closely with Somali security forces to ensure security for the population," said Boubacar Diarra, special envoy of the AU Commission to Somalia.
AU Commission envoy said AMISOM`s role, at this critical time, was to provide a secure atmosphere for the conduct of the elections and the peaceful transfer of power.
AU Somalia mission deploys nearly 18,000 peacekeeping troops to help stabilize the war-torn country.
The election will be carried out by the new parliament which is currently being selected by senior Somali clan elders who will share the 275-member legislature along clan quotas.
The presidential vote in Mogadishu is expected to be tough and competitive with dozens of candidates including the three senior government leaders, incumbent president Sheikh Sharif Sheikh Ahmed, Prime Minister Abdiweli Mohamed Ali and Speaker of parliament Sharif Hassan Sheikh Adam.
"When called upon and depending on the availability of resources, AMISOM may provide secure transportation to key personalities via its armored convoys. This should not be construed as endorsement of their candidature," Diara said.
The selection of a new parliament which will vote for a president mark the final stages of an elaborate plan known as the roadmap to end the transitional period which the horn of African country has been through for the past decade.
© Copyright 2012. Xinhua News Agency. All rights reserved.
Time runs short for Somali gov`t transition, as world leaders express concern of corruption
BY JASON STRAZIUSO
The Canadian Press
August 14, 2012
NAIROBI, Kenya _ World leaders from Africa to the U.S. and Europe said they are growing increasingly concerned that intimidation and corruption are marring the selection of a new Somali parliament, a task still unfinished less than a week before the government`s U.N. mandate expires.
The U.S. Embassy said in a statement Tuesday that it shares the concerns of the African Union and U.N. over ``multiple credible reports of intimidation and corruption`` in the selection of the country`s new 275-member parliament.
James Swan, the U.S. representative for Somalia, continued with his list of concerns: ``Inadequate representation of women and in some cases reports of former warlords who are being nominated by their communities.``
Since 2004, Somalia has been represented by a U.N.-approved leadership structure called the Transitional Federal Government that mostly controlled only small parts of Mogadishu. The government has accomplished little, but because African Union and Somali troops pushed al-Shabab militants out of the capital last year positive momentum is building.
But the U.N. mandate for the government expires Aug. 20, and Somali leaders still must nominate a parliament that will in turn vote in a president.
That looming deadline _ and the messy process of naming a parliament _ appears to be making world leaders nervous about Somali power brokers` ability to make decisions that are in the best interest of the country. A report commissioned by the U.N. finalized in July said that systematic misappropriation, embezzlement and outright theft of taxpayer funds have become a system of governance in Somalia.
U.N. Secretary-General Ban Ki-Moon said Monday that he is seriously concerned about delays in the selection of the new parliament. Ban, through his spokesperson, said recent reports of intimidation and violence should not be allowed to threaten the conclusion of the Somali government`s transition.
An EU representative, Alex Rondos, echoed the concerns. ``In the run-up to the end of the transition, the responsibility remains with the selected Somali leadership to rise to the challenge of delivering this process fairly and transparently and must understand that, ultimately, they are personally accountable for their actions.``
Somalia has been the world`s most lawless country since 1991, when the president was ousted and warlords began in-fighting. U.S. troops invaded in the early 1990s to try to help ease the pain of famine, but retreated after losing the battle known as Black Hawk Down.
Ugandan troops _ later to be backed by Burundian forces _ moved in in 2007 as part of an African Union force and have lost hundreds of lives to secure Mogadishu from the hands of the al-Qaida-linked group al-Shabab.
The transitional government was supposed to end last August, but the U.N. extended its mandate by a year when it became clear not enough political process had been made to move to a new government structure.
As part of the transition, more than 600 Somali elders earlier this month approved a new provisional constitution that contains new individual rights and sets the country on a course for a more powerful and representative government.
The constitution makes it clear that Islamic law is the basis for Somalia`s legal foundation. But it also protects the right to an abortion to save the life of the mother and bans the circumcision of girls, a common practice in Somalia that opponents call female genital mutilation. Those rights were opposed by conservative Somalis.
The U.N. hopes one day that the constitution can be voted on by all of Somalia, but the day that security is good enough to hold a nationwide vote remains years away. Though al-Shabab no longer controls Mogadishu, it still holds sway in much of south-central Somalia.
© 2012 The Canadian Press. All rights reserved.
Somalia; Power is as valuable as peace
News Analysis from Economist.com
August 14, 2012
A lack of electricity is as big a brake on development as chronic insecurity
AT THE start of August, a gathering of Somali leaders in Mogadishu, their country`s capital, backed a new constitution, paving the way for a new government to be sworn in on the 20th. The vote came shortly after two bombers tried to attack the meeting, so it is not surprising that concerns over the country`s fragile recovery focus mainly on politics and security. But Somalia faces another sort of power struggle which may be just as big a brake on development.
The country`s lack of electricity has long been a problem. After 20 years of war laid waste to much of the place`s infrastructure, it was the private sector that stepped in. A study by the World Bank in 2004, when warlords held sway in most of Somalia, found that local entrepreneurs had discovered a way of getting round the dire lack of a functioning electricity grid, payment system or metering. They have divided cities into manageable quarters and provide electricity locally using second-hand generators bought in Dubai, said the report. Households fed up with living in the dark had a range of choices: they could pay for electricity during the day, during the evening, or round the clock. They could even be charged by the lightbulb.
While such ingenuity is commendable, the costs have been exorbitant. A patchwork of diesel generators provides electricity for people who can afford it. Somalias warlords and militias have been the chief beneficiaries. The cost has been far out of reach of the poor. And it has been exceptionally bad for business. There is no shortage of entrepreneurs in Mogadishu. But it is difficult to make money without affordable electricity. Forget about development without it, says Mohamed Nur, the citys go-ahead mayor. Government officials and businessman in the capital estimate that a kilowatt of electricity costs $1.35, making it perhaps the most expensive in the world. In neighbouring Kenya it is five times cheaper, in Turkey about ten times, and in the United States about 12 times. The monthly bill for an average Mogadishu household with one electric light and two sockets is more than $100. Mr Nur complains that his monthly bill is $275. His two-bed house, with a fridge and two air-conditioners, is luxurious by the standards of most of his compatriots but would be thought modest in the West.
Now a Norwegian charity is running a pilot project to install 50 solar-powered street lights in the capital, while other donors are watching from a distance to see if that works. Liban Egal, a Somali entrepreneur who grew up in Baltimore in America, has started work with an American-trained chemist to produce bio-diesel from animal fat, which the cattle-herding Somalis normally have in abundance, along with used oil and chemicals. If they can get the mix right, their generators could in theory run on 40 cents a litre of bio-diesel instead of $1.20 for a litre imported fuel.
© The Economist Newspaper Limited, London 2012. All rights reserved