New president, old problems in Somalia
Deutsche Welle
September 10, 2012

Somalia`s new president Hassan Sheikh Mohamud, a political newcomer, speaks at a ceremony after being elected by the Parliament over outgoing President Sheik Sharif Sheikh Ahmed who conceded defeat, in Mogadishu, Somalia Monday, Sept. 10, 2012. Somalia`s Parliament elected a new president of the country`s fledgling government Monday, a move that members of the international community say is a key step toward the east African nation`s transition from a war-torn failed state to a nation with an effective government. (AP Photo/Farah Abdi Warsameh)
The election of a new president is supposed to end violence and anarchy in Somalia. But the war-torn country is still dogged by violence and corruption, and experts don`t expect that to change any time soon.
With Hassan Sheikh Mohamud now at the helm of Somalia, a sigh of relief can be expected from UN headquarters in New York all the way to Mogadishu. Many observers had feared the latest attempt to form a government had failed after lawmakers missed the August 20 deadline to elect a new head of state. Apparently, it was the United States that forced the Members of Parliament to give in and carry out the election. The vote of Somali MPs marks the end of the agonizing transitional period to set up a new administration.
Bribes are all too common
Questions however remain whether the administration can make a difference in the country that has been without a functioning government for more than 20 years. The parliamentary election last month was seen as a test run for the presidential elections. The polls however revealed that many of the chronic ills of Somali politics are still alive and well: Many Members of Parliament reportedly did not get a seat because of their competency, but because of "brown envelopes" - bribes of about $60,000 (47,000 euros) each.
Legal expert Mohamed Osman Jawari was subsequently elected speaker - a post that traditionally carries much weight in Somalia. He is one of the experts tasked with drafting the new constitution. Many experts however doubt that the current draft is acceptable to the majority of Somalis.
"Most of the key issues raised in the draft such as federalism or the role of Islam in Somali politics have been edged out," Roland Marchal of the Centre for International Studies and Research in Paris told DW. Instead, the new parliament has to debate these issues again from scratch. "After eight years of negotiations, you can hardly call that a success," Marchal said.
A helpless international community
The troubled transitional process shows how helpless the international community still is in Somalia. The UN Political Office for Somalia (UNPOS) was supposed to moderate the process. But the office is mired in so many disputes that Somalis called on UN Secretary General Ban Ki Moon to sack his special representative to the country, Augustine Mahiga.
At the same time, many Somalis doubt the motives of the international community. They fear that countries such as Norway are more interested in the country`s fish grounds or recent oil finds than in establishing a functioning government. Many observers fear that large parts of the population will lack trust in the new government set up with assistance from the international community.
Campaigning, Somalia style
In the last days and weeks, contenders for the presidential post met regularly amidst the hustle and bustle of Somalia`s capital Mogadishu to forge alliances. Just like before, ethnicity mattered more than ideology in these campaigns. 25 candidates had registered as candidates by September 7, which marks the official deadline. They included former prime ministers, business men and academics. Even the head of the BBC`s Somali Service decided to leave his desk in London in favor of a campaign office in Mogadishu. On the weekend, the candidates officially introduced themselves to parliament. Sunday was their official campaigning day.
Most of the candidates are familiar faces in Somali politics. Many observers doubt that they stand for a new beginning in the war-torn nation. "There are two many cooks in the kitchen that are not trained to cook in the first place," Somalia expert Markus Höhne from the Max-Planck-Institute told DW.
Somalia`s previous transitional governments have also failed to raise hope that Somali politics have changed for the better in recent times. Incumbent president Sharif Sheikh Admed has been heading a corrupt and inefficient administration since 2009. A leaked UN report accuses his government of "systematic embezzlement, pure and simple misappropriation of funds and theft of public money." Between 2009 and 2010, the government stole seven out of every ten dollars of public funds. Besides corruption, observers are also deeply worried about the country`s human rights situation. Germany`s Society for threatened peoples calls it "disastrous."
© 2012. Deutsche Welle.
Backgrounder: Somalia since the signing of the Kampala Accord
SongChen
September 10, 2012
MOGADISHU, Sept. 10 (Xinhua) -- Following months of wrangling over to hold elections in August 2011, Somali leaders reached a deal on June 9, 2011 in the Ugandan capital named the Kampala Accord which extended the term of the government for one year:
Key events since June 9, 2011: Signing of the Kampala Accord in the Ugandan capital
- June 19, 2011: Mohamed Abdullahi Mohamed resigned from his position as Prime Minister of Somalia
- June 23, 2011: Abdiweli Mohamed Ali was named permanent Prime Minister
-June 28, 2011: Somali parliament approves new MP
-July 11, 2011: Somali lawmakers ratify the Kampala Accord
-July 20, 2011: The United Nations declares famine in Somalia
-August 3, 2011: The UN announces $120 million to help the drought affected people in southern and central Somalia
-August 6, 2011: Al-Shabaab Islamist group announced withdrawing from Mogadishu
-August 19, 2011: Turkish Prime Minister Recep Tayyip Erdogan visits Somali capital, Mogadishu
-September 4, 2011: The Consultative Meeting for Ending the Transition opens in Mogadishu
-September 6, 2011: Somali leaders agree on a Roadmap for Ending the Transition at a three-day meeting in Mogadishu
-October 4, 2011: A suicide truck bomb kills more than 100 including students and injures many more in Mogadishu
-October 15, 2011 The Kenyan army launches an incursion into Somalia dubbing the offensive "Operation Linda Nchi" or "Defend our Country"
-November 28, 2011: Al-Shabaab issue a ban for 16 aid agencies
-December 14, 2011: Somali leaders sign Garowe Principles at end key constitutional meeting Garowe city in Puntland
-December 20, 2011: First contingent from Djibouti arrive in Mogadishu to join African Union peacekeeping Mission in Somalia (AMISOM)
-December 29, 2011: Disgruntled worker shoots dead two MSF doctors in Somalia`s capital Mogadishu
-December 31, 2011: Somali government troops backed by Ethiopian forces take central town of Beledweyne from Al-Shabaab fighters
-January 22, 2012: A Drone attack kills Bilal el-Berjawi, a British national and alleged Al-Qaida member and Al-Shabaab trainer on the outskirts of Mogadishu
-February 3, 2012: UN announced end of famine in Somalia
-February 9, 2012: Al-Shabaab`s leader, Mukhtar Abu al-Zubair, announces that his militant group would be joining Al-Qaida Network
-February 15, 2012: The UK government hosts The London Somalia Conference and was attended by 55 delegations from Somalia and the international community
-February 22, 2012: Somali government forces and Ethiopian troops capture the Al-Shabaab controlled strategic southern town of Baidoa
-March 29, 2012: Somali leaders meet in the town of Galkayo to Amend the Garowe Principles
-May 25, 2012: Somali government troops and their AMISOM allies capture the strategic town of Afgoye from Al-Shabaab
-June 26, 2012: Somali government forces assisted by AMISOM soldiers and tanks capture the Al-Shabaab stronghold of Balad
-July 25, 2012: 825-member National Constituent Assembly convenes in Mogadishu
-August 01, 2012: Two suicide bomb attacks against the National constituent Assembly meeting foiled
-August 01, 2012: Somalia`s Constituent Assembly overwhelming endorses new Provisional Constitution
-August 20, 2012 Somalia inaugurates 275-member new parliament
-August 26, 2012 Somali government and AU troops seize key southern town of Marka from Al-Shabaab
-August 28, 2012 Somali parliament elects Mohamed Jawari as its Speaker
-August 30, 2012 Somalia sets Sept. 10 as presidential vote date
-September 10, 2012 Somali lawmakers vote in a highly contested presidential election.
© Copyright 2012. Xinhua News Agency. All rights reserved.
Somalia lawmakers elect new president
September 10, 2012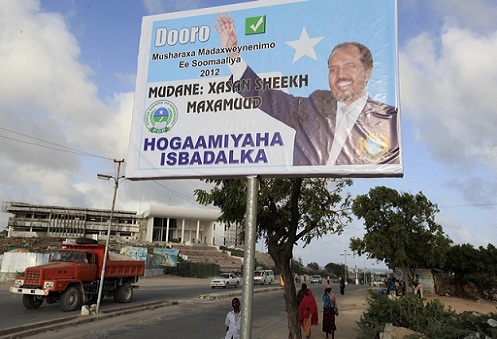 Somalia`s new president Hassan Sheikh Mohamud, a political newcomer, speaks at a ceremony after being elected by the Parliament over outgoing President Sheik Sharif Sheikh Ahmed who conceded defeat, in Mogadishu, Somalia Monday, Sept. 10, 2012. Somalia`s Parliament elected a new president of the country`s fledgling government Monday, a move that members of the international community say is a key step toward the east African nation`s transition from a war-torn failed state to a nation with an effective government. (AP Photo/Farah Abdi Warsameh)
Lawmakers on Monday chose Hassan Sheikh Mohamud as Somalia`s new president after the 56-year-old lecturer got the majority of votes in a second round run-off, beating outgoing president Sharif Sheikh Ahmed.
Sharif had earlier in the day sounded confident of victory in the vote, which UN brokers have billed as a major milestone in stabilising the war-torn nation.
Many sceptical observers had voiced fears that the vote would simply return the same corruption-tainted leadership but dark horse Mohamud, an academic and activist, won 190 votes against 79 for the outgoing president, who had been seen as the likely winner until late in the day.
Mohamud came second out of 25 candidates in the first round, clocking up 60 votes, against 64 for Sharif. His victory in the run-off was greeted with joyful firing into the air in the streets of Mogadishu.
Mohamud, who, like Sharif, comes from the Hawiye clan, is linked to the Al-Islah party, the Somali equivalent of the Muslim Brotherhood. He is the founder of a university in Mogadishu and has worked alongside several international organisations in Somalia.
"What has happened today will be written on a golden page in Somalia`s history and my friend Sheikh Sharif will always be credited for his role in this development," the new president said.
"I hope that Somalia will from now on start heading towards better days and that all problems we have undergone will be history," he said.
Sharif conceded defeat in the poll, which is the final stage of a UN-backed process to set up a new administration for the war-torn Horn of Africa country.
"I congratulate my brother Hassan Mohamud for his victory which is fair and I`m very much pleased with it," Sharif said in a speech after the results were announced.
"I`m ready to work with him as I would have liked people to work with me had I won the election. I will step aside without a grudge because I`m very happy that my country is no longer in transition," Sharif said.
The new parliamentarians, selected last month by a group of traditional elders, rose one after the other amid tight security to cast their ballots in a packed room at the police academy.
African Union and UN security officials conducted body searches and fingerprint checks on all those allowed anywhere near the venue. Islamist extremists have often taken advantage of gatherings attended by senior political figures to launch suicide attacks.
Each candidate had to pay $10,000 (7,850 euros) to enter the race, which has been delayed several times, missing an August 20 deadline.
The UN`s special representative for Somalia, Augustine Mahiga, said Monday that while obstacles remain, the presidential election will "mark another milestone in the country`s political process".
Analysts had been gloomy on the process, suggesting it offered little but a reshuffling of key figures and positions from the outgoing Western-backed government.
Somalia has lacked an effective central government since president Mohamed Siad Barre was ousted in 1991, unleashing cycles of bloody conflict that have defied countless peace initiatives.
Ruthless warlords and militia groups including Al-Qaeda-linked Shebab insurgents have controlled mini-fiefdoms that African Union troops and other forces have only recently started to capture.
Sharif, in power since 2009, had been one of the favourites, although he cut a controversial figure with Western observers.
A UN report in July said that under his presidency, "systematic embezzlement, pure and simple misappropriation of funds and theft of public money have become government systems" -- claims Sharif has rejected.
The rival challengers had bitter arguments, divided along Somalia`s notoriously fractious clan lines, and the UN Security Council has repeatedly warned of "intimidation and corruption", threatening "action against individuals whose acts threaten the peace, stability or security of Somalia".
However, Britain`s ambassador to Somalia, Matt Baugh, said last week that both the outgoing president and prime minister had assured him of "their commitment to respect (the) election outcome".
© Copyright Agence France-Presse, 2012 All reproduction and presentation rights reserved.
Islamists Are the Only Ray of Hope for Somalia
by Abdi Yusuf Noor
October 26, 2006
Nairobi, Oct 26, 2006 (The East African Standard/All Africa Global Media) -- Fifteen years after the fall of President Siad Barre`s regime in January, 1991, Somalia does not have a functioning and recognised central government.
This prolonged state of collapse is unmatched by any other country in modern times. Despite many attempts by the African Union and Inter-Governmental Authority on Development (Igad) to restore peace, security and order, Somalia has accelerated towards a catastrophe since the Transitional Federal Government (TFG), under the leadership of President Abdullahi Yusuf Ahmad, was set up in Kenya in 2004.
The standoff between the TFG and its Ethiopian ally on the one hand, and the Islamic Courts Union (ICU) , which controls Mogadishu and other parts of southern Somalia, threatens to escalate into a wider conflict. This could consume much of the south and suck in neighbouring countries unless the international community makes urgent efforts to stop the carnage.
Somalia hit the headlines recently when the ICU captured Mogadishu. The Islamists took advantage of the power vacuum which arose after the international. Many analysts have failed to define the so-called Islamists, which took southern Somalia by storm. They erroneously link them to the Jihadist-Salafist groups of Al-Qaeda.
TFG Prime Minister Mr Ali Gedi and his Ethiopian allies paint the ICU as foreign-backed terrorists. This has been described as a public relations gimmick aimed at attracting the international community, particularly the US, which is keen on counter-terrorism activities in the Horn of Africa.
The reality is that the roots of the Somalia crisis are insular and have more to do with power and prestige issues than religious ideology. Terrorism fears are based on superficial gestures such as a ban on watching the 2006 World Cup matches or outlawing the chewing of miraa, a leafy stimulant.
In reality, and unlike the former Taliban regime in Afghanistan which enjoyed the support of neighbouring Pakistan and the Pashtun ethnic majority, the ICU has no real friends outside the country despite reports of Eritrean support. The Eritrean connection can be described as opportunistic and intended to settle scores with archrival Ethiopia, which supports TFG.
Moreover, the ICU is subject to many tribal, ideological and religious influences and there is no indication that it is completely controlled by extremists or terror elements who subscribe to Al-Qaeda as regional and international media suggest. The ICU is ethnically homogeneous and draws members from various religious backgrounds such as the Salafi and Sufi movements.
The former is made up of the Jamaat Tabligh and splinter groups of Muslim Brotherhood, including Al-Ittihad Al-Islami and Al-Islah, among others. The Al-Islah group is a typical Egyptian Muslim Brotherhood considered the most moderate in Somalia. Although its ideology and policies are different from that Al-Ittihad`s, most members in Mogadishu have collaborated with the ICU.
On its part, the Sufi movement is not popular and has two prominent sects - the Qadiriyyah and Salihiyyah. Therefore, the subtle blend of Islamist groups, which comes from different political and religious backgrounds, is vital to the restoration of peace and security.
In the West, particularly the US, newspaper articles, books and public discourse have equated Salafism to radicalism and terrorism. However, evidence from different parts of the world shows that Salafism is not inherently synonymous with violence, terrorism or radicalism. Many Salafist groups are peaceful and democratic. It is, however, important to distinguish between the Jihadist Salafis - religious hardliners - and moderate ones who believe that the imitation of the behaviour of the Prophet`s closest companions should be the basis of social order.
Therefore, ICU members can be described as followers of moderate Salafis or political movement which emerged as result of the close to two-decade power vacuum in Somalia. Unlike warlords who held Mogadishu to ransom, ICU has brought economic, political and social changes.
Somalia is in desperate need of a shoulder to lean on. Where will it come from? This help is unlikely to come from Somalia`s neighbours Ethiopia, Kenya and Djibouti. Somalis consider Ethiopians, with whom they have fought several territorial wars, sworn enemies. There is no trust between the two countries and peoples. Ethiopia has been accused of meddling in Somalia`s internal affairs and the presence of its troops in the country, a fact acknowledged by senior TFG officials, has complicated the standoff.
The Somali have repeatedly said they do not want any Ethiopian involvement in their affairs. But as a neighbour and interested party, Ethiopia has a role to play in the Somali peace process - but diplomatically. However, Addis Ababa has failed in this because of its bias. The same can be said of Kenya and Djibouti.
To achieve a solution to the Somali crisis, international action is required. Since regional organisations such as the African Union and Igad have failed, the international community, including the United Nations, should intervene. The UN should negotiate with warring parties, particularly the ICU and TFG, and form a government of national unity.
© 2006 AllAfrica, All Rights Reserved
Islamic Movement`s Niche: Bringing Order to Somalia`s Clans
By JAMES C. McKINLEY Jr
The New York Times
August 23, 1996
MOGADISHU, Somalia, Aug. 15 -- Around north Mogadishu, Sheik Ali Sheik Mohammed has earned the reputation of a no-nonsense lawman who has cleaned up a lawless town. Most folks see here him in much the same way as Americans saw marshals in the Old West.
There is one important difference. Sheik Ali is also an Islamic religious leader whose rising popularity has some clan and faction leaders in Somalia looking over their shoulders and revising their political stances.
Sheik Ali`s popularity on the streets here is one of many signs that Islamic religious leaders and fundamentalist groups, including some from abroad, have succeeded in stepping into the power vacuum created by the absence of a central Government in the years since the West seemed to give up on Somalia.
Other indications of the rising Islamic profile include a proliferation of Muslim charities, and small representations of radical fundamentalist groups tied to the Sudan and Egypt.
Few political analysts say they believe that the fundamentalists have enough support yet to challenge the power of the traditional clan leaders, who have divided Somalia into small fiefs. But if they are a long way from forming an Islamic state -- Somalia is scarcely a state at all -- they have at least created a new beachhead for Islamic fundamentalists.
As clan leaders and politicians have failed to unify the country, religious groups have taken steps to begin establishing an Islamic Government, piece by piece, beginning with Sharia courts, which use a legal system based on the Koran.
Before the strict Islamic code was introduced, clan warfare had allowed Mogadishu to descend into a post-apocalyptic frenzy of rape, robbery and random killings, human-rights lawyers say. More than 20 people were being killed on an average day by thugs masquerading as militia members and women were frequently raped and abused. But in just two years, the Sharia court has turned the northern end of this capital city from a state of pure anarchy into a relatively safe and civilized area.
Now killings are rare outside of casualties during clan skirmishes. Only four have been reported in the last two years. Reports of rapes and thefts have also dropped dramatically. Like any big city police chief, Sheik Ali, chairman of the court, has taken credit for the change.
Along the way, the court has issued severe punishments, severing the hands and feet of 13 armed robbers. The extremities were sawed off without anesthetic in a public arena and then hung out to dry in front of a local stadium to serve as a deterrent. The sheiks have also executed 12 people for violent crimes. One married man was stoned to death in the same stadium after he allegedly raped a young woman. Under the Islamic code, he was tried not for rape, but for adultery.
The popularity of those measures was clear at a recent rally in the stadium to celebrate the second anniversary of the Sharia court. The faction leader who controls the north end of the capital, Mohammed Ali Mahdi, had ordered people not to attend because he was feuding with Sheik Ali over whether Mr. Ali Mahdi`s group would get a share of a tax collected by the clerics.
But more than 6,000 people disobeyed the clan leader, and showed up. When Sheik Ali entered the stadium, several men lifted him on their shoulders and carried him around the jogging track while the crowd chanted, "God is great!"
"Ali Mahdi is finished," said Mohammed Haji Omar, 21, echoing the view of many in the crowd. "Ali Mahdi is interested in money only. He has no beliefs."
As Western countries and charities have cut aid to Somalia, largely because of security problems and theft, Islamic charities are gaining influence here, journalists and human-rights workers say. Money is pouring in from wealthy people and charities in the Sudan, Saudi Arabia and Libya.
The Islamic charities operating in the capital include Al-Haramein, a Saudi Arabian group and Islamic African Relief Agency and Dawa Al-Islam, both financed from the Sudan. Though many of these groups have a fundamentalist bent, their projects are not overtly political: building health clinics and operating Koranic schools. But they are providing employment for many fundamentalists, and some politicians assert that they are also steering aid to people who share their religious views.
"Nobody here in Mogadishu can get a vote or support from the people if he is seen as purely secular," said Abdurahman Abdulla, director of an American-based Islamic charity, Mercy International. "Islam is gaining support and it will continue to gain support. The more a Somali state is delayed the more people will shift to Islam."
A handful of radical fundamentalist organizations also have set up shop here. The largest is the Islamic Union, which is believed to support Islamic terrorists in Ethiopia and which has strong ties to the Sudan.
Two other groups have grown up in Mogadishu out of the Muslim Brotherhood movement in Egypt. One is Al-Islah, a more moderate group that opposes armed struggle but nonetheless advocates uniting Somalia`s clans through religion and establishing an Islamic state. The second organization is led by Sheik Mohammed Moalin, a cleric who appears to share the Islamic Union`s view that Islam should be imposed through armed struggle, pro-democracy advocates say.
But the success of Sharia courts in Mogadishu and in towns like Belet Uen, Kismayu, Lugh and Dolow has given them more than a little credibility among the people, business and political leaders say.
"They are becoming another clan," said Ali Malin, a north Mogadishu trader. "But very strong, because they have money and they are everywhere, in every family."
Dahir Jimale, chairman of the merchants association in north Mogadishu, said: "The U.S. and the U.N. came here and did not succeed in making peace. These Muslim extremists started the Islamic courts and they made peace. So the people are interested in them. Because of a lack of government and a lack of security they are getting stronger."
One measure of the growing influence of Islamic groups is the fact that faction leaders have tried to co-opt their supporters. The bylaws of most of political parties now focus on Islam as a way to restore order. Mr. Ali Mahdi established Sharia law in north Mogadishu partly because of pressure from religious constituents.
Before his death, which was reported Aug. 2, Gen. Mohammed Farah Aidid, who controlled south Mogadishu, had also grudgingly promised to put Sharia into effect there. And last year, Mr. Aidid was so worried by the Islamic Union`s influence in his section of the city that he set up his own religious organization, Ahlusuna Wal Jamea, and gave the group a radio transmitter. Broadcasting on "Holy Koran Radio," the group is essentially a propaganda organ for the Aidid faction, cloaking its military thrusts in religious oratory.
For their part, Sheik Ali and other moderate religious leaders maintain they simply want to restore order. They say they are not ideologically opposed to the United States or the West and do not want to see an anti-Western theocracy emerge in Somalia like the Governments of Iran and the Sudan. Neither do they support terrorism, they say.
At the same time, they are quick to express the belief that only religion can unify Somalis, who have a nomadic culture and whose politics are based entirely on shifting clan alliances. They say they would happily accept an Islamic government if the people asked for it.
"That depends on the civilians," Sheik Ali said. "If there is a call from the civilians to build that kind of government, that would be all right.
"Our idea is just to get the vote from the civilians as the Holy Koran says."
Sheik Hassan Dahir Aweys, a high-ranking member of Islamic Union in south Mogadishu, makes no bones about his group`s wishes for Somalia to be ruled "according to the principles of Islam." His followers often go into the streets in cars with loudspeakers, accusing pro-democracy advocates of acting against the teachings of Islam and of being part of "Satan`s party." They also contend that democracy would bring more homosexuality to the Islamic world.
"Of course we would like to see an Islamic state in Somalia," he said. "We have seen a democracy, a Communist Government, a dictatorship. These sorts of governments did not meet the interests of the people. We believe the interests of the people could be realized through Sharia law."
But clan leaders say that the fundamentalists would have an uphill battle if they tried to take power and to impose strict Islamic morality on the people. The religious groups are still a small minority, and a coup d`etat is impossible since there is no state to speak of to take over.
Moreover, while many Somalis are thankful that the Sharia court has restored order, the majority still value their clans more than their religion, these leaders say. In a state of anarchy, the clans provide the only protection most people have.
"Somalia will never accept a fundamentalist government in their country," Mr. Ali Mahdi said. "Fundamentalism is not a religion. It`s a party who wants to come to power. We will never accept a dictator."
In the end, perhaps the most powerful force working against the fundamentalists is the fiercely independent character of most Somalis. "The main thing against the clerics is the Somali mentality," said Tahlil Haji Ahmed, a human-rights lawyer. "Somalis are nomadic. They can`t take restrictions."
Even at the rally for Sheik Ali, some people echoed that view. Ali Hassan, 23, said that his family left south Mogadishu last year after their house was looted and destroyed. They moved to the north, where there was some semblance of order. Still, he said, he did not want the government to impose strict Islamic morality on everyone.
"The Islamic court has arrested many bandits and robbers that ruined our lives into anarchy, and we can`t live without it," he said. "But the style in Sudan -- we don`t want to have that kind of government."
© 1996 New York Times Company