Somalia famine killed nearly 260,000 people, half of them children – reports UN
UN News Centre
May 02, 2013

In Wednesday, Feb. 15, 2012 photo, a feeding site run by the Somali aid agency Jumbo Peace and Development Organization to cook food provided by the World Food Program (WFP) sits almost deserted, with supervisors claiming that most people arrived at 5 p.m. although the site had shut by 1:30pm the previous day, near the airport in the Wadajir area of Mogadishu, Somalia. A large amount of food sent by the U.N. to the Somali capital during last year`s famine never reached the starving people it was intended for, an Associated Press investigation has found. (AP Photo/Katharine Houreld)
More than a quarter of a million people died in the famine in Somalia between October 2010 and April 2012, in part because the international community did not act quickly enough, the top United Nations humanitarian official in the country said today.
"The suffering played out like a drama without witnesses," said Philippe Lazzarini, UN Humanitarian Coordinator for Somalia, reacting to the findings in a new report funded and commissioned by the UN Food and Agricultural Organization (FAO).
Some 133,000 of the Somalis who perished – about half – were children under five, according to FAO`s Food Security and Nutrition Analysis Unit for Somalia (FSNAU), which carried out the study along with the USAID-funded Famine Early Warning Systems Network (FEWS NET).
Calling the magnitude of the mortality figures "unsettling", Mr. Lazzarini said the report confirms "that we could have done more before famine was declared on 20 July 2011" and that it will help ensure "that Somalia never goes through another famine again."
He added that "warnings that began as far back as the drought in 2010 did not trigger sufficient early action. In the worst affected areas, access to people in need was tremendously difficult.
At the peak of the crises, between May and August 2011, about 30,000 excess people died per month, according to the study.
"An estimated 4.6 per cent of the total population and 10 per cent of children under 5 died in Southern and Central Somalia," FAO reported. "Lower Shabelle, Mogadishu, and Bay were hardest hit."
A massive mobilization of the humanitarian community helped mitigate the worst effects of the crisis, once famine was declared, the Humanitarian Coordinator continued. "We reached previously inaccessible areas through innovative programming and by strengthening local partnerships."
Since then, the UN community and its partners have changed the way it operates, Mr. Lazzarini said, "With 2.7 million people still in need of life-saving assistance and support to build up their livelihoods, we are redoubling efforts to invest in Somalia`s people and communities to break the cycle of crisis and response."
"We are seeking ways to bridge humanitarian and development work which will be crucial to consolidating the resilience of Somalia`s people and communities," he added.
Tarsan: The Mayor of Ghost Camps
Biyokulule Online
July 17, 2012
Introduction
Southern Somalia: In 2011, months of drought led to severe famine that caused deaths and forced many to flee for their lives to the capital, Mogadishu, to get help. Tens of thousands of famine victims in the southern part of Somalia have reached Mogadishu, after days of epic perilous journey on foot.
Many of these famine-stricken internally displaced persons (IDPs) were sheltered in big camps at the outskirts of Mogadishu; but some of these IDPs were handled by racketeers who established small camps inside the city.
What followed was the disappearance of large quantities of emergency relief food and medicine dispatched to these famine-affected displaced persons. However, "with the mayor of Mogadishu [Mohamud Ahmed Nur]* and district commissioners recognized as legitimate authorities by the TFG and donors alike, aid agencies have little choice but to work with them to establish programmes and provide assistance in Mogadishu. But the central and municipal authorities have proven extremely weak in providing government leadership to tackle the humanitarian crisis".
The UN Somalia and Eritrea Monitoring Group (SEMG) has recently compiled a report, dated June 27, 2012. Parts of the report were dedicated to highlight the tactics used by TFG officials in Mogadishu to conceal "whether aid was actually reaching the intended beneficiaries or if those beneficiaries even existed" (i.e. the existence of ghost camps in Mogadishu). Below are excerpts of the report followed by related news-articles.
Annex 6.2.: `Gatekeepers` and other forms of diversion of humanitarian assistance
1. The withdrawal of Al-Shabaab forces from Mogadishu on 2 August 2011 should, in principle, have improved access throughout the capital for aid agencies, and facilitated the direct provision of humanitarian assistance to vulnerable Somalis. The reality, however, was quite different: UN agencies, INGOs and their national counterparts were confronted instead with pervasive and sophisticated networks of interference: individuals and organizations who positioned themselves to harness humanitarian assistance flows for their own personal or political advantage. These "gatekeepers" often exercised control over the location of IDP camps; the delivery, distribution and management of assistance; and even physical access to IDP camps and feeding centres, through their influence over the "security" forces deployed to such sites
2. Through late 2011 and early 2012, humanitarian conditions remained dire, as famine and conflict continued to hamper the ability of individuals to cope in their areas of origin, and pushed many to seek assistance in the capital city. As the IDP population of the capital expanded and makeshift camps burgeoned in the city, district officials often ushered IDPs to landowners who then obliged them to the tiny patches of soil upon which they established their shelters. [1] In many locations, IDPs continue to pay not only "rent", but also fees for access to water and sanitation facilities.
3. Aid agencies have deplored the lack of control central authorities exercise over Mogadishu`s 16 district commissioners, and their sub-district commissioners. In August 2011, the mayor of Mogadishu was asked by the Prime Minister to consolidate many of the ad hoc IDP camps into a single large settlement, Badbaado, in Dharkeynley district. To do so, the Mayor convened a committee comprising the 16 district commissioners of Mogadishu, whose main purpose was to ensure that its members would continue to profit from the presence of IDPs in the city. [2] As one aid official told the SEMG: "nothing can be done without the agreement of the mayor and the district commissioners, including the choice of contractors we hire. We have to find ways of working that are acceptable to all, and this is impossible if the local authorities don`t, somehow, get a piece of the pie".[3] As the situation continues to evolve and international agencies have a more important presence in Mogadishu, some camps are now much better run than others. Still, the role of gatekeepers remains, and so does the influence they exert over vulnerable populations.
Systematic diversion of assistance to IDPs
3. The result has been a form of organized racketeering that exploits the plight of IDPs for financial gain. With the mayor of Mogadishu and district commissioners recognized as legitimate authorities by the TFG and donors alike, aid agencies have little choice but to work with them to establish programmes and provide assistance in Mogadishu. But the central and municipal authorities have proven extremely weak in providing government leadership to tackle the humanitarian crisis. Multiple entities and individuals have been established and appointed by both the President`s and the Prime Minister`s offices, but it is unclear to all actors- including the TFG itself- what roles and decision-making abilities each one of them has. [4] The resulting confusion and lack of coordination is not only extremely challenging for humanitarian actors: it also contributes to an environment in which transparency and accountability are virtually non-existent.
4. The most salient "ghost camps"- or fake settlements containing unoccupied shelters- emerged throughout Mogadishu. These camps were often established with the complicity of district officials in an attempt to attract international assistance and extract a percentage of its value. [5] Similar practices existed elsewhere in Somalia, although the scope of the problem was harder to assess because of access constraints.
5. A joint UN/ TFG mission in the fall of 2011 revised the number of IDPs in the city downwards from 372,000 to 184,000, identifying approximately 50 `ghost camps` in the process. [6] This exercise, which combined methodological headcounts, door-to-door verification and satellite imagery, left some aid agencies unable to justify the high numbers of beneficiaries in their programmes. Moreover, after the revision of the IDP numbers, some of the Nairobi-based aid agency coordination "clusters" were obliged to conclude that over 120% of the actual number of vulnerable individuals identified by the census had received assistance, leaving them to question where the assistance was actually going. [7] In some cases, the detection of ghost camps led to threats and violence against aid workers. The most significant incident occurred on 23 December 2011 in Matabaan, in Hiiraan region, when two WFP national staff were killed for questioning the authenticity of a settlement. [8]
6. The presence of gatekeepers is endemic in Mogadishu, and enables the large scale misappropriation or diversion of lifesaving assistance. In January 2011, where the UN had declared famine levels to be improving in Al-Shabaab-controlled areas, the situation was still one of emergency in Mogadishu, where international assistance was also significantly more available. Senior humanitarian officials believe diversion by gatekeepers to be a key factor in impeding the delivery of aid to the most needy. [9]
7. IDPs are also routinely kept from seeking redress, or having any direct contact with donors and aid agencies. They are told "to stay away from journalists or government officials visiting the camp" [10], since only the committee established by the camp commander or manager is authorized address outsiders. As for monitoring by aid groups and the media, IDPs interviewed routinely provided false information, fearful that anyone who presents complaints to outsiders – especially when the cameras are rolling -- risks physical abuse and possibly even death. [11]
Footnote
[*] Mohamud Ahmed Nur alias Tarsan/Tarzan
[1] Interviews with UN and INGOs heads of agencies, Nairobi, December 2011- March 2012.
[2] Interview with UN head of agency, Nairobi, 8 December 2011.
[3] Interview with INGO head of agency, Nairobi, 23 March 2012.
[4] Interviews with UN heads of agencies, international donors and TFG officials, Nairobi and Mogadishu, December 2011- March 2012.
[5] Interviews with UN and INGOs heads of agencies, Nairobi, December 2011- March 2012.
[6] Interview with UN head of agency, Nairobi, 12 December 2011.
[7] Interviews with Heads of clusters, Nairobi, December 2011- February 2012.
[8] Interview with WFP Representative, Nairobi, 25 April 2012.
[9] Interview with UN senior humanitarian officere, Nairobi, 13 January 2012; Mogadishu, 13 March 2012.
[10] Interviews with IDPs, Badbaado camp, Mogadishu, August- September 2011
[11] Interviews with IDPs, several IDP camps, Mogadishu, August 2011- January 2012.
AP Exclusive: Food aid for starving Somalis stolen, UN agency investigating
By KATHARINE HOURELD
Associated Press
August 15, 2011

In this photo of Monday, Aug. 8, 2011 a truck delivers stolen food aid to a market at the former water agency in the Somali capital Mogadishu. An Associated Press investigation in Somalia has found that thousands of sacks food aid are being stolen and sold on the black market, undermining the international response to the country`s crippling famine. Sacks of food stamped with emblems from the World Food Program, the U.S. government aid arm USAID and the Japanese government are for sale in Mogadishu markets.

In this photo of Saturday, Aug.13, 2011 Somali women selling stolen food aid hide their faces from a photographer at a market in Mogadishu on Saturday. An Associated Press investigation in Somalia has found that thousands of sacks food aid are being stolen and sold on the black market, undermining the international response to the country`s crippling famine. Sacks of food stamped with emblems from the World Food Program, the U.S. government aid arm USAID and the Japanese government are for sale in Mogadishu markets.
MOGADISHU, Somalia (AP) - Sacks of grain, peanut butter snacks and other food staples meant for starving Somalis are being stolen and sold in markets, an Associated Press investigation has found, raising concerns that thieving businessmen are undermining international famine relief efforts in this nearly lawless country.
The U.N.`s World Food Program acknowledged for the first time that it has been investigating food theft in Somalia for two months. The WFP strongly condemned any diversion of "even the smallest amount of food from starving and vulnerable Somalis."
Underscoring the perilous security throughout the food distribution chain, donated food is not even safe once it has been given to the hungry in the makeshift camps popping up around the capital of Mogadishu. Families at the large, government-run Badbado camp, where several aid groups distribute food, said they were often forced to hand back aid after journalists had taken photos of them with it.
"They tell us they will keep it for us and force us to give them our food," said refugee Halima Sheikh Abdi. "We can`t refuse to cooperate because if we do, they will force us out of the camp, and then you don`t know what to do and eat. It`s happened to many people already."
The U.N. says more than 3.2 million Somalis -- nearly half the population -- need food aid after a severe drought that has been complicated by Somalia`s long-running war. More than 450,000 Somalis live in famine zones controlled by al-Qaida-linked militants, where aid is difficult to deliver. The U.S. says 29,000 Somali children under age 5 already have died.
International officials have long expected some of the food aid pouring into Somalia to disappear. But the sheer scale of the theft calls into question the aid groups` ability to reach the starving. It also raises concerns about the ability of aid agencies and the Somali government to fight corruption, and whether diverted aid is fueling Somalia`s 20-year civil war.
"While helping starving people, you are also feeding the power groups that make a business out of the disaster," said Joakim Gundel, who heads Katuni Consult, a Nairobi-based company often asked to evaluate international aid efforts in Somalia. "You`re saving people`s lives today so they can die tomorrow."
For the past two weeks, planeloads of aid from the U.N., Iran, Turkey, Kuwait and other countries have been roaring into Mogadishu almost daily. Boatloads more are on the way. There is no doubt that much of it is saving lives: the AP saw hungry families lining up for hot meals at feeding centers, and famished children eating free food while crouched among makeshift homes of ragged scraps of plastic.
WFP Somalia country director Stefano Porretti said the agency`s system of independent, third-party monitors uncovered allegations of possible food diversion. But he underscored how dangerous the work is: WFP has had 14 employees killed in Somalia since 2008.
"Monitoring food assistance in Somalia is a particularly dangerous process," Porretti said.
In Mogadishu markets, vast piles of food are for sale with stamps on them from the WFP, the U.S. government aid arm USAID, the Japanese government and the Kuwaiti government. The AP found eight sites where thousands of sacks of food aid were being sold in bulk. Other food aid was also for sale in numerous smaller stores. Among the items being sold were Kuwaiti dates and biscuits, corn, grain, and Plumpy`nut -- a fortified peanut butter designed for starving children.
An official in Mogadishu with extensive knowledge of the food trade said he believes a massive amount of aid is being stolen -- perhaps up to half of recent aid deliveries. The percentage had been lower, he said, but in recent weeks the flood of aid into the capital with little or no controls has created a bonanza for businessmen.
The official, like the businessmen interviewed for this story, spoke on condition of anonymity to avoid reprisals.
The AP could not verify the official`s claims. WFP said that it rejected the scale of diversions alleged by the official.
At one of the sites for stolen food aid -- the former water agency building at a location called "Kilometer Five" -- about a dozen corrugated iron sheds are stacked with sacks of food aid. Outside, women sell food from open 110-pound (50-kilogram) sacks, and traders load the food onto carts or vehicles under the indifferent eyes of local officials.
Stolen food aid is the main reason the U.S. military become involved in the country`s 1992 famine, an intervention that ended shortly after the military battle known as Black Hawk Down. There are no indications the military plans to get involved in this year`s famine relief efforts.
The WFP emphasized that it has "strong controls ... in place" in Somalia, where it cited risks in delivering food in a "dangerous, lawless, and conflict-ridden environment."
WFP said it was "confident the vast majority of humanitarian food is reaching starving people in Mogadishu," adding that AP reports of "thousands" of bags of stolen food would equal less than 1 percent of one month`s distribution for Somalia.
Somali government spokesman Abdirahman Omar Osman said the government does not believe food aid is being stolen on a large scale, but if such reports come to light, the government "will do everything in our power" to bring action in a military court.
The AP investigation also found evidence that WFP is relying on a contractor blamed for diverting large amounts of food aid in a 2010 U.N. report.
Eight Somali businessmen said they bought food from the contractor, Abdulqadir Mohamed Nur, who is known as Enow. His wife heads Saacid, a powerful Somali aid agency that WFP uses to distribute hot food. The official with extensive knowledge of the food trade said at some Saacid sites, it appeared that less than half the amount of food supplied was being prepared.
Attempts to reach Enow or his wife for comment were not successful.
Businessmen said Enow had several warehouses around the city where he sold food from, including a site behind the Nasa Hablod hotel at a roundabout called "Kilometer Four."
Three businessman described buying food directly from the port and one said he paid directly into Enow`s Dahabshiel account, a money transfer system widely used in Somalia. WFP has no foreign staff at the port to check on stock levels or which trucks are picking it up; it relies on Somali staff and an unidentified independent monitor to check on sites.
The men said they would buy in bulk for $20 per sack and sell at between $23 and $25 -- a week`s salary for a Somali policeman or soldier.
Until last week, there were daily battles in the capital between Islamic insurgents and government forces supported by African Union peacekeepers. Suicide bombers and snipers prowled the city.
WFP does not serve and prepare the food itself. After the deaths of 14 employees, WFP rarely allows its staff outside the AU`s heavily fortified main base at the airport. It relies on a network of Somali aid agencies to distribute its food.
Gundel, the consultant, said aid agencies hadn`t learned many lessons from the 1992 famine, when hundreds of thousands died and aid shipments were systematically looted, leading to the U.S. military intervention.
"People need to know the history here," he said. "They have to make sure the right infrastructure is in place before they start giving out aid. If you are bringing food into Somalia it will always be a bone of contention."
In the short term, he said, aid agencies should diversify their distribution networks, conduct frequent random spot checks on partners, and organize in communities where they work -- but before an emergency occurs. "It`s going to be very, very hard to do now," he added.
At the Badbado camp, Ali Said Nur said he was also a victim of food thefts. He said he twice received two sacks of maize, but each time was forced to give one to the camp leader.
"You don`t have a choice. You have to simply give without an argument to be able to stay here," he said.
© 2011. The Associated Press. All Rights Reserved.
Al Qaeda steal our food..then pay our men $100 a month to fight for them
GARY ANDERSON
The Sunday Mirror
August 14, 2011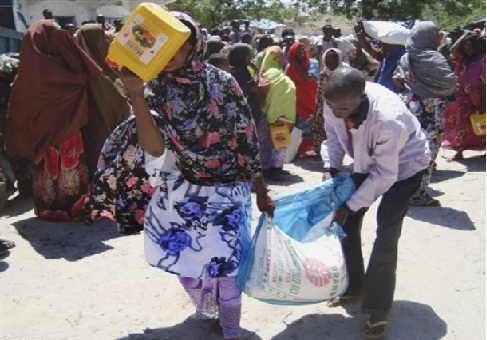 In this photo of Thursday, Aug. 4, 2011 a Somali woman at the main camp for displaced families in the capital Mogadishu, hides her face after taking food aid. An Associated Press investigation in Somalia has found that thousands of sacks food aid are being stolen and sold on the black market, undermining the international response to the country`s crippling famine. Sacks of food stamped with emblems from the World Food Program, the U.S. government aid arm USAID and the Japanese government are for sale in Mogadishu markets.
Investigates: how terror group is taking advantage of famine
LYING on a two-inch thick plastic mattress on the concrete floor of a bare hospital ward, a desperate young mother tries to feed her crying son.
Kuresha Mohammed Ali`s boy Issak was hours from death when she brought him to the malnutrition ward at Mandera District Hospital on the border between Kenya and drought-ravaged Somalia.
She was forced out of her home after Al Qaeda warlords, who control much of lawless Somalia, plundered food and livestock from her village there.
The cattle were stolen to feed Al Qaeda jihadist fighters, many of them starving Kenyans enlisted on the promise of three meals a day and $100 a month.
Tiny Issak, who at two years old weighs just 13.6lbs (6.2kg), half a healthy child`s weight, is one of Al Qaeda`s many helpless victims.
The boy - whose tiny Manchester United T-shirt hangs on a makeshift washing line above his mother`s head - fell ill when food ran out at a grim refugee camp his family had fled to.
Kuresha told the Sunday Mirror: "We had to leave our village because (Al Qaeda offshoot) Al Shabaab chased away the charities helping us and they were slaughtering people so they could steal their food and animals.
"There is no food in the camp. My son was breast-feeding but because I was hungry I could not produce milk. He got sick - vomiting, diarrhoea. He was so weak I thought he was going to die."
Tragically, stories like Kuresha`s are all too common among families terrorised by civil war and facing a famine that threatens 12 million people across East Africa.
When the Sunday Mirror visited the sprawling Tulla Amin camp in Somalia last week, mothers told how they had been forced to abandon starving daughters at the roadside in the hope of reaching safety in time to save their sons, who, unlike the girls, may at some stage be able to find work.
And across the border in Kenya, people told us their children are dying of starvation too - despite official denials that the famine has spread there. Thousands of nomads who have lost their animals now live in "drop-out camps" on the outskirts of El Wak.
Holding aloft one of the carcasses from his goat herd, Adan Ibrahim Mohammed, 80, said five of his 10 children had left the area since the drought hit. He knows that he is unlikely to see them again.
He said: "This is the worst drought I have seen in 60 years. I hope to God the rains come in October because if they don`t there is no hope. We will all die."
Meanwhile outside the malnutrition ward at Mandera there is a constant hum of crying babies and anguished mothers waiting to have their child assessed and get a hand-out of porridge. Some have walked for 10 days to reach the hospital, where 25 staff struggle to cope with the influx of famine victims from Somalia and Ethiopia.
In the severe malnutrition ward, exhausted mothers such as Fatuma Nunow, 34 - who rushed here with her sons Hamsa Ibrahim, two, and month-old Abdi Rahman Ibrahim - told of their fears. She said: "I came here three days ago. I am worried because my baby is still losing weight. I have had to leave five other children with my elderly mother. Their father is dead."
Crossing the border from Kenya to reach the Tulla Amin - meaning "Safe Zone" - camp is like crossing a postapocalyptic wasteland.
Our off-road vehicles escorted by heavily armed troops meet thick plumes of smoke from burning rubbish then pass the remains of a village, including a shell of a mosque - razed to the ground after heavy fighting between Somali troops and Al Shabaab.
Families living in makeshift hovels crafted from sticks and tarpaulin told how they had fled to the camp to find peace - even though conditions, with little sanitation and food supplies dwindling - are dire.
Officials said numbers in the heavily-guarded camp had grown to about 120,000 people, crammed together in barren desert where temperatures often reach 40∫C. Hawa Hussein, 51, told how she had walked for seven days to escape Waajid - the Al Shabaab stronghold in Somalia. She said: "It has not rained for two years. There are carcasses of humans and animals everywhere. Al Shabaab have been killing people and raping women. Four months ago they killed my brother. They came to his village and burnt everything and shot him, just so they could steal his animals."
The first sight to greet visitors to El Wak - 125 miles south of Mandera - are marabou storks, vulture-like creatures, grimly nicknamed "undertaker birds". They feast on the rotting flesh of carcasses at the roadside.
District Commissioner Lenkai Ole Tutui - the Kenyan government`s man in the region - claimed the authorities were coping well with the crisis. But his claim that no humans or animals had died as a result of drought or famine was quickly exposed as a sham.
Roadsides were littered with the carcasses of goats, donkeys and even camels - animals that can survive for months without water. The impact on the nomadic livestock owners, who criss-cross the region settling at the best grazing lands, has been devastating. After two failed rainy seasons, livestock prices have plummeted - if men can sell their starving animals at all - just as food prices have soared. Families have been split up and village elders said hundreds of young men have poured across the border to fight for Al Shabaab, lured by the promise of a decent monthly wage.
At a meeting of local chiefs, Haroon Malim Ali said: "I know of one young man whose family had 300 goats, but lost all but 54 in the drought.
"One day the rest of the goats were driven out of the pasture and the boy decided to leave, so he headed into the bush and just disappeared.
"The family looked for him everywhere and later they were informed he had joined an Al Shabaab militia. They were told to forget about him. The militias are offering between $100 and $200 a month. When they lose all their livestock and have nothing left, it is an attractive way to earn a living."
British charity Spana - The Society for the Protection of Animals Abroad - is working on projects to save as many livestock as possible, which in turn would give hope to their owners.
The hope is that by feeding the livestock and vaccinating them against common diseases families can continue to support themselves during and after the drought. Spana is delivering 90 tonnes of animal feed to north-east Kenya between now and October - when the next rains are due - and vaccinating more than 80,000 animals.
The measures could help see some 15,000 through the worst of the months to come and help provide communities with some hope for the future.
Spana CEO Jeremy Hulme said: "We can see in the misery and poverty of the Tulla Amin camp, where people have lost all their livestock, the impact of this crisis. These people are pastoralists, not farmers as we know it. They grow no crops so the animals are everything."
© 2011 Mirror Group Ltd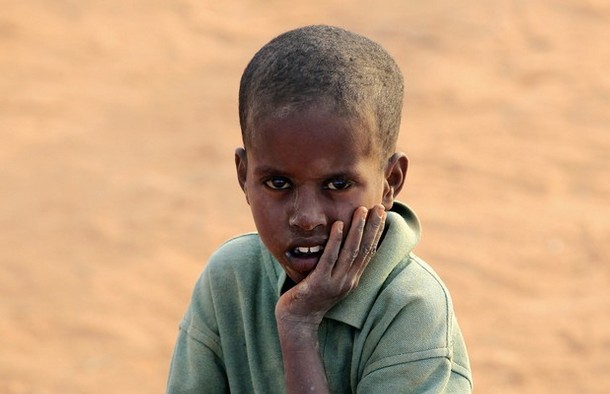 Somalia`s 2011-2012 famine