British business`s new frontier
The Indian Ocean Newsletter
May 17, 2013

The President of Somalia, Hassan Sheikh Mohamud, waits for Britain`s Prime Minister David Cameron to greet him at Number 10 Downing Street in London February 4, 2013. REUTERS/Olivia Harris (BRITAIN - Tags: POLITICS)
British Prime Minister David Cameron`s reason for holding an international conference on Somalia in London on 7 May, along with an associated business forum the following day, was not only so he could claim success in diplomacy. He mainly wanted to pave the way for his country`s companies to be well placed to win the future reconstruction contracts, and so not leave the field open to the Turkish companies that are already very active in the Horn of Africa (ION 1351). In the longer term, Cameron`s aim is to try to split Somalia from the Arab world and bring it into the fold of the Commonwealth to make it the club`s new front line country in the region. According to this reasoning, setting up a federal structure, with the creation of regional Somalian States, should bring Somalia politically closer to its East-African neighbours – where British firms already have a strong presence.
Oil companies lying in wait.
Two closed session satellite events took a detailed analysis of business opportunities, complementing the 8 May Somalia investment forum sponsored by the Foreign and Commonwealth Office (FCO) and the Department for International Development (DfID) and reserved for newcomers to the field. The oil companies BP, Shell, Soma Oil and Gas, delegates from Deloitte and PricewaterhouseCoopers (two firms already involved in managing Amisom`s financial and budgetary affairs) as well as some representatives of Barclays Bank and De La Rue Currency held an entirely private meeting with President Hassan Sheikh Mohamud of Somalia. Barclays is planning to start operating in Mogadishu as soon as suitable banking legislation goes through parliament, while De La Rue is to print the new Somalian banknotes. For her part, the Foreign Minister and Deputy Prime Minister Fawzia Yusuf Haji Adan had discussions with the business law firm Eversheds, the oil exploration companies Ophir and Tullow Oil, and also with the African Development Bank (AfDB) and the Horn of Africa Business Association (HABA) whose executive director, the Briton Mark T. Jones, the instigator of a humanitarian operation in Sierra Leone in 2000 (the Sierra Leone Shipment Appeal)sits on the board of the Kampala based Kitenge Africa Foundation. Fawzia Yusuf Haji Adan also met with the Somaliland Development Corporation (SDC), created last year by Myles Wickstead (former British ambassador to Ethiopia and Djibouti) and Jeremy P. Carver, president of the British branch of the International Law Association.

A Somali woman carries a Union flag, the flag of the United Kingdom, during a demonstration in support of the international donors` conference on Somalia taking place in London, in Mogadishu, Somalia Tuesday, May 7, 2013. Somali President Hassan Sheikh Mohamud opened the international conference Tuesday by asking donors to provide "considerable investment and support" for his beleaguered government in the coming years. (AP Photo/Farah Abdi Warsameh)
Infiltrating Villa Somalia.
While several Britons head the main international institutions operating in Somalia, others even work inside the presidential palace, Villa Somalia. President Hassan Sheikh`s PR advisor is Richard Bailey, whose salary is paid by the FCO. He is a consultant with Albany Associates Ltd, a former PR advisor to the European Union`s (EU) special representative for the Horn of Africa in Nairobi and the former head of media relations of the African Union/UN Information support team in Nairobi and Mogadishu. Another one of Albany`s consultants, Justin Marozzi (the former civil affairs director in Iraq for Aegis Defence Services) is currently the PR advisor to Prime Minister Abdi Farah Shirdon. Other Britons are: David Clapp, the head of UNDP Somalia (UN agency that channels and controls the majority of international aid to Somalia); Deborah (Bella) Bird, who has served in the DfID, is the World Bank country director for Somalia, Sudan and South Sudan; Nicholas Kay, the head of the UN`s new integrated mission to Somalia (UNSOM) will be deployed on 3 June.
Djibouti not left out. In the wake of the Somalia conference, the FCO also sponsored the first UK-Djibouti Trade & Investment Forum in London on the following day. This was attended by around a hundred British firms (see newsflash sent to subscribers on 10 May), whose delegates appeared to be only just discovering the country. Apart from two banks (Standard Bank and Barclays) and secure document printing company De La Rue, a substantial portion of those present were business lawyers (K&L Gates, Clyde & Co, Denton Wilde Sapte), consultants of all kinds (Newstate Partners, Hogan Lovells International, Crown Agents, Omnia Strategy, Nuvidium, Aegis Advisory) and lobbyists (Raitt Orr & Associates). A significant number of finance companies (Africa Practice, Eleven Capital and African Frontier Capital Partners) were also present, as were a handful of energy and mining juniors (Stratex, Thani Ashanti, EasthStream Global, Britannia Mining, Allied Petroleum & Allied Gold and Setanta Energy).
© Copyrights 2013 Indigo Publications All Rights Reserved

Britain`s Prime Minister David Cameron, center, sits with Britain`s Foreign Secretary William Hague, left, and Somali President Hassan Sheikh Mohamud as he speaks at the Somalia conference in London, Tuesday May 7, 2013. British Prime Minister David Cameron is welcoming Somalia`s president and a host of international leaders to London for a conference aimed at securing support for the government in Mogadishu after two decades of conflict. (AP Photo/Andrew Winning, Pool)
Total
The Indian Ocean Newsletter
May 17, 2013
The French oil company Total doesn`t want to have the rug pulled from under its feet by its British and Turkish competitors in Somalia and so has already begun to take an interest in obtaining an oil searching permit there. Admittedly, this is not for tomorrow and no document has yet been signed in this regard. However, Total is already eyeing an offshore zone off Mogadishu and the Benadir region, under the new redistricting blocks drawn up by the Somalian authorities. In the 2000s, Total had already tried its luck for an offshore block off Mogadishu, acting via the Franco-Somalian Mohamed Abdi Mohamed, aka Gandhi. An agreement had been signed, but the oil company did not finally take it any further. Today, Gandhi is one of the leaders in direct competition to head the future regional state of Jubaland state in the south of Somalia.
© Copyrights 2013 Indigo Publications All Rights Reserved
Shell clings firmly to its concession
The Indian Ocean Newsletter
March 01, 2013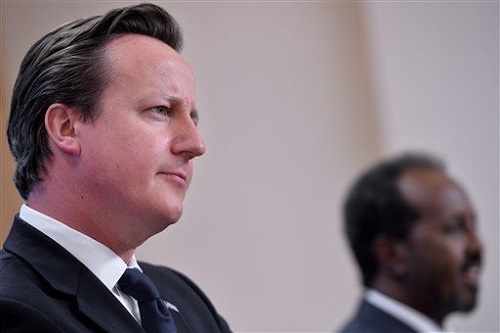 Britain`s Prime Minister David Cameron and Somali President Hassan Sheikh Mohamud, right, speak during a press conference at the Foreign and Commonwealth Office in London, Tuesday May 7, 2013. British Prime Minister David Cameron is welcoming Somalia`s president and a host of international leaders to London for a conference aimed at securing support for the government in Mogadishu after two decades of conflict. (AP Photo/Ben Stansall, Pool)
Shell`s permit in Somalia has lain idle for decades because of "force majeure" but the company clearly prizes the acreage.
Executives of the Anglo-Dutch firm Shell Exploration & Production aren`t about to let go of a concession covering five blocks that the group acquired in Somalia in November, 1988 but which has remained idle under force majeure ever since.
On Feb. 25, Tjalling Wiersma and Ayca Arisoy, who serve respectively as the legal and financial chiefs of Shell EP Somalia BV sent a warning letter to the American firm Liberty Petroleum Corporation (LPC). They claimed Liberty had acquired an oil prospecting license from the regional government of Galmudug which is headed out of the capital, Galkayo, by a former war lord, Abdi Hassan Awale Qeybdiid.
In the letter, a copy of which has been obtained by the Indian Ocean Newsletter, Shell warned the American company that its "offshore block covers a part of blocks held by Shell" and on which Shell claims exclusive rights. The letter specified that all activity in the area "would constitute a clear violation of Shell`s exclusive rights."
Based in Phoenix, Arizona, Liberty Petroleum Corporation was founded in 1997 by Trent and Lane Franks. The latter took over the company when his brother Trent won a seat in the House of Representatives on a Conservative Party ticket.
In addition to Lane Franks, LPC`s directors are Abdul Al Tawash, Saud Al Tawash, Travis Franks and Jonas Robertson.
Another firm is also seeking oil licenses from the Galmudug government, namely Britain`s LGE Monsoon whose representative travelled to Mogadishu at the end of 2012. (ION 1349).
© Copyrights 2013 Indigo Publications All Rights Reserved
Police swoop on radical Islamists
The Indian Ocean Newsletter
March 01, 2013
The Hargeisa police Rapid Reaction Unit is secretly detaining more than a hundred people suspected of ties with the Al Shabaab militant Islamist group.
The latest weekly report that the services of security minister Mohamed Nour Arale, a.k.a. Duur, has submitted to the office of President Ahmed Mohamed Mahamoud , a.k.a. Silanyo, has confirmed that 120 people suspected of ties with AlShabaab have been arrested in the past ten days. A night-time curfew was decreed in Hargeisa last week and the Rapid Reaction Unit (RRU), a new branch of the Somaliland police force, carried out large-scale checks on vehicles and pedestrians. According to our sources, the people who were arrested are being detained by the RRU in three secret prisons in Hargeisa, Burao and Las Anod. The detainees include Hussein Faysal Ali Warabe, the son of Faysal Ali Warabe, the president of the UCID opposition party, and his wife. The couple had travelled from Helsinki on Finnish passports before their arrest in Las Anod on February 17. Police suspect they were on their way to Yemen to join Al Qaeda in the Arabian Peninsula (AQAP). Warabe`s father met with the security minister shortly after the arrests and confirmed that his son had become radical after coming into contact with Islamist groups.
Growing numbers of Al Shabaab fighters, who are now struggling in the centre and the south of Somalia, are seeking refuge in Somaliland or Puntland and regularly cross both territories for logistical reasons. The alarm was raised on January 27 by the Foreign and Commonwealth Office (FCO), which advised British citizens to leave Somaliland due to "specific" threats that had been made against Westerners. The RRU then swooped. Following a tip-off from Western intelligence services, the unit separately intercepted two groups of 10 and 26 suspects in Berbera on February 3 and 24.
© Copyrights 2013 Indigo Publications All Rights Reserved
Last minute bids for oil
The Indian Ocean Newsletter
August 25, 2012
Just before the mandate of the Transitional Federal Government (TFG) in Mogadishu came to an end, the outgoing oil minister, Abdulkadir Mohamed Diesow, who is close to the outgoing TFG President Sheikh Sharif Sheikh Ahmed was contacted by two oil companies that wanted to take advantage of the situation to obtain search permits in Somalia. According to a Western diplomatic source, both companies want several prospecting blocks and had made promises deemed to have no future by the Somalians so were finally rejected. The first offer was from the company Monsoon Resources Ltd registered in London last March by the British national Timothy Grey. At the same time, Grey founded another company, also in London, called Tim Grey Associates Ltd. The second bid was submitted by the firm Kuwait Energy. But its formalities had come too late for the contracts to be completed before the end of the TFG mandate.
The majority of the Somalian ministers already had their minds focussed on the forthcoming negotiations for them to keep their posts.
© Copyrights 2012 Indigo Publications All Rights Reserved
New look for Salama Fikira
The Indian Ocean Newsletter
July 07, 2012
The small British-Kenyan security company Salama Fikira has changed its name to regain its youth.
The equity of the security company Salama Fikira, created in Nairobi in 2005 by Conrad Thorpe, a veteran of the British Special Boat Service, has been transferred to a new company called Newport Africa. According to our sources, this operation is in fact a form of rebranding: Rob Phayre has exactly the same job in Newport Africa as he had in Salama Fikira, namely the general manager. Phayre is a former helicopter pilot in the British army and has been resident in Kenya since 2004.
Salama Fikira specialises in ransom exchanges with Somalian pirates. It acted at the end of March to obtain the release of the British tourist Judith Tebbutt who had been held hostage in Somalia for six months. Prior to that, in the spring of 2011, a number of its staff was arrested in Somalia carrying over £2 million, corresponding to the ransom they were to hand over to Somalian pirates to obtain the liberation of two commercial boats. Salama Fikira gradually built up a negative image as a company that facilitates the criminal activity of pirates, hindering its business. Which is why it decided to rebrand.
© Copyrights 2012 Indigo Publications All Rights Reserved
The man who has the TFG`s ear
The Indian Ocean Newsletter
March 10, 2012
A British marketing and media specialist is involved in the recent public relations and security contracts in Mogadishu and Garowe.
The CEO of Market Evolution, a British company specialised in consumer market studies, Toby Constantine, has acted as the go-between for the Transitional Federal Government(TFG) in Mogadishu and the Puntland administration in Garowe for several recent contracts. The firm Frontier Media Partners created by Constantine last year, was associated with the contract to set up a coastguard unit in Somalia inked last month between the TFG defence minister, Hussein Arab Essa, and the Kenya based security firm Halliday Finch International.
This company will provide training and logistics support for these coastguards. It is headed by Sam Mattock, a British ex-serviceman who worked for Control Risks in Nigeria (from 2004 to 2006) and subsequently founded Halliday Finch International with Toby Constantine as one of the directors. Prior to that, in October 2011, Constantine had been appointed advisor to Abdirahman Mohamed Mohamud, known as Farole, the President of Puntland, the autonomous regional administration in the north east corner of Somalia, for the development of mineral and fishing resources. He won this contract in partnership with the Moffett Group, an American public relations company headed by the former Democrat congressman, Toby Moffett.
The connection with this American group was not too hard for Constantine to establish, because he is Toby Moffett`s son-in-law, having married his daughter Julia Moffett in 2005.
© Copyrights 2012 Indigo Publications All Rights Reserved
Ministers with dual nationality – Somalia
The Indian Ocean Newsletter
January 24, 2008
According to the count carried out by the web site www.somaaljecel.com , no less than 14 of the ministers in the new Somalian interim government hold Western passports. The Prime Minister Nur Hassan Husayn known as Nur Adde is a British citizen and his three deputy ministers are British (Aydid Abdullahi Ilka Hanaf), Australian (Salim Aliyow Ibrow) and Canadian (Ahmad Abdisalam Adan). The Ministers of Interior (Muse Nur Amin), Energy and Mining (Muhammad Ali Salah Kange), Agriculture (Mustafa S. Ali Dhuhulow) and of Reconstruction (Nur Idow Beyle) all have British passports. Other Somalian ministers have Australian (Hussayn Elabe Fahiye, finance), Canadian (AliAhmad Jama Jengeli, foreign affairs), Swedish (the Deputy Ministers Fahma Ahmad Nur and Abdikafi Ma`alim Hasan), Dutch (Abdirisaq Ashkir Abdi, reconstruction) and Finnish (Abdi Muhammad Tarah, telecoms) passports.
© Copyrights 2008 Indigo Publications All Rights Reserved
The oil companies show up
The Indian Ocean Newsletter
September 22, 2007
The Somaliland ministry for foreign affairs has just officially thanked the firm Enex Somaliland Inc for its gift of pharmaceutical products. This firm was created as a joint venture between the Somaliland ministry for mineral resources and the company Enex Resources AS to take advantage of the oil resources of this autonomous territory in north-west Somalia. Since then it has yet to win a contract approved by the Cabinet. Hence its desire to make a good impression on the authorities in Hargeisa. Enex Resources is registered in Norway and the United Kingdom and its chairman is Eskandar Maleki. In July 2007 it created a web site ( www.enex-resources.com ) which outlines its strategy in Somaliland and Iraq, where it also operates. Maleki is an Iranian born businessman who now has Austrian nationality and is resident in Monaco. He is a shareholder and former executive of Tullow Oil. Enex`s managing director Leoned Tiahlo is Ukranian born but now has British nationality.
He has worked for the bank Derzhinvest. Enex also has two Vice Presidents in the United Kingdom: Dave Melnyk and "Tissa" Jayasekera. The latter, a Sri Lankan, worked for the British Nuclear Power Company before going into the oil industry and becoming an engineer for Arco British Ltd, later joining the oil and gas division of the UK Department of Trade and Industry (DTI) in 1990. In 2003 he was made an officer of the Orderof The British Empire (OBE). Enex`s third Vice President is US based B. "Dee" Davis, the founder and CEO of Energy Capital Advisers LLC, a financial consulting company based in Houston. Enex`s legal advisor, Hilary Worboys, previously worked for Gaz de France in the UK. Additionally, a delegation from the French company Total`s Exploration and Prospecting (E&P) division went to Somaliland in August 2007 to have meetings with officials in the presidency and energy ministry on the outlook for oil exploration and the blocs available. This delegation is believed to have been interested in the oil potential of the Las Anod region. In reply to our questions, a Total spokesman merely told us on 11 September that his company "did not wish to communicate about Somaliland" which sounds to us like something of an admission. Alert sent to subscribers by email on 12.09.2007
© Copyrights 2007 Indigo Publications All Rights Reserved