Feuds Split Afghanistan`s Ruling Family
By Yaroslav Trofimov
Dow Jones Top Global Market Stories
July 01, 2013

Hashmat Karzai, cousin of President Hamid Karzai, sits in his mansion in the village of Karz, in Afghanistan`s Kandahar Province. June 29, 2012. Lorenzo Tugnoli/The Washington Post
KARZ, Afghanistan -- In a scene common across Afghanistan, one turbaned elder after another complained about graft, abuses and bloodshed under President Hamid Karzai.
"He doesn`t have even three friends here," exclaimed a bearded mullah.
"And I don`t know who these three friends are -- maybe his wife and his son?" quipped the meeting`s host.
The host was the president`s cousin, Hashmat Karzai. The village was Karz, the president`s ancestral home, and the gathering with dozens of elders was held just a few hundred yards from a mausoleum with the tomb of the Afghan president`s father.
That such open discontent swirls even here, on the Karzai clan`s home turf outside southern Afghanistan`s main city of Kandahar, indicates the depth of the challenges President Karzai is facing as a transition of power looms next spring, when his final term expires.
If the election takes place as scheduled in April, Mr. Karzai is widely expected to try steering into office a trusted ally, possibly his brother Qayum Karzai, who is preparing a presidential bid. As a backup plan, some of the president`s supporters recently began a campaign to extend his term, in the name of the national interest. Many opposition leaders, including powerful warlords who backed Mr. Karzai in previous elections, are pledging to thwart such plans.
The Karzai clan worked closely together to secure Mr. Karzai`s re-election in 2009. Any such concerted effort this time, however, is hobbled by increasingly bitter infighting within the extended family. The fighting among the Karzais has become so public that it now dominates the political life of Kandahar, the sprawling metropolis that is both the clan`s power base and the cradle of the Taliban.
The feud is both a conflict within Mr. Karzai`s immediate family -- with brothers warring over tens of millions of dollars in allegedly missing cash -- and a clash with a rival branch of the family led by cousin Hashmat, who is emerging as an alternative power center in Kandahar. Most of the main players in this Shakespearean drama are current or former U.S. citizens or hold U.S. permanent-resident status.
"How can the people of Afghanistan have expectations that this family will bring peace and stability to Afghanistan if they cannot even have peace and stability within their own family?" wonders Ahmad Zia Massoud, who was Afghanistan`s vice president from 2004 to 2009 and now leads an opposition group.
A senior official close to President Karzai says he is confident the family will overcome the bickering and come together in time for the elections. "They will find a way," he says.
An election with an outcome broadly seen as legitimate is crucial for Afghanistan`s future. A mishandled vote could fracture the country, energize the Taliban insurgency and jeopardize international aid just as the U.S.-led coalition forces withdraw. President Karzai`s spokesman, Aimal Faizi, says the Afghan leader doesn`t have a preferred candidate and is committed to ensuring a free and fair vote.
One brother of the president, Mahmood Karzai, argues that the family deserves to remain in power, drawing a parallel between the Karzais and the Gandhi-Nehru dynasty that played a major role in solidifying India`s democracy.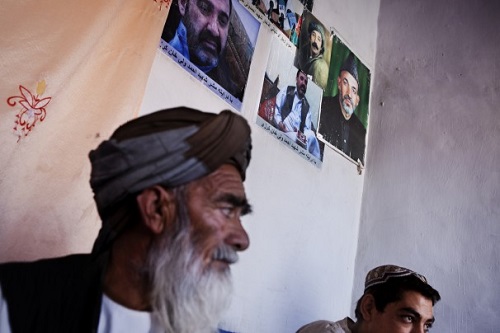 Haji Shaida Mohammad, 59, a local elder, sits in his house and talks with relatives and friends in Karz, Afghanistan, the ancestral home of the country`s ruling family. June 30, 2012. Lorenzo Tugnoli/The Washington Post
"The idea that a family becomes a political family, with a tie to the people, is not unusual in Asia, or in America," Mahmood says. "People know that a Karzai will not take their money, will not corrupt, will not imprison somebody just because he doesn`t like somebody. We`re not that kind of people. We`re civilized."
A businessman who helped fund President Karzai`s re-election in 2009, Mahmood this time around is organizing the campaign of their brother Qayum, holding frequent meetings with tribal leaders.
Qayum, who holds U.S. permanent residency status but lives in Afghanistan, hasn`t yet announced his expected candidacy. He didn`t respond to requests for comment.
Mahmood, a key player in Kandahar who recently renounced his own U.S. citizenship, says he will run for president himself in case Qayum doesn`t.
For most of President Karzai`s 12-year rule, another of his seven brothers and half-brothers, Ahmed Wali Karzai, supervised the family`s affairs in Kandahar.
Described by some senior U.S. officials as a man they allege controlled a large part of Afghanistan`s drug trade, Ahmed Wali, a onetime Chicago restaurateur, was technically just the chairman of the Kandahar provincial council. But he was the undisputed strongman in southern Afghanistan, controlling a militia and feared in Kandahar and neighboring provinces. Every day, crowds of supplicants gathered at his home, waiting hours to submit their requests for favors.
All that ended in July 2011, when he was gunned down by a trusted bodyguard, in a slaying that still spawns conspiracy theories. Since then, once-suppressed intrigues within the clan have burst into the open.
President Karzai named another of his half-brothers, Shah Wali Karzai, to take Ahmed Wali`s place as the senior family member in Kandahar. But Shah Wali, a bookish engineer who is rarely seen in public, has yet to garner anything approaching his assassinated brother`s stature.
"Shah Wali is a very innocent person. He is not built for this, he is not ready for society. This crown came to him by force," scoffs cousin Hashmat.
Until his brother`s murder, Shah Wali worked as the manager of a big housing development on the edge of Kandahar called Aynomeena. It is access to Aynomeena`s riches that has inflamed the rivalry between Shah Wali and Mahmood.
Mahmood launched Aynomeena 10 years ago, bringing in investors to develop what used to be largely empty government land on the outskirts of the city.
With grid-patterned streets, leafy boulevards and fountains modeled on Roman piazzas, the 10,000-acre development is unique in Afghanistan, more resembling an American suburb than the mud-brick alleyways of Kandahar city next door. Each day, bedazzled visitors flock there to take snapshots in front of its wonders.
Shah Wali, who holds U.S. citizenship, didn`t own a stake in the project. He was merely an employee, paid a $6,000 monthly salary to manage it, company officials say.
Ahmed Wali`s death upended that arrangement. Soon after being named family leader by the president, several witnesses say, Shah Wali tried to take over the Aynomeena development, arriving with gunmen at its offices to beat up and expel staffers loyal to the investors and to assault Pakistani accountants brought in by the investors to investigate the books.
Mahmood and some other Aynomeena owners say they discovered that $57 million, much of it customer deposits, was missing -- transferred to accounts controlled by Shah Wali.
They also say they believe that previously, while Shah Wali oversaw the development as its paid manager, he skimmed millions of dollars by using his own companies to bill the project for construction work and materials at inflated prices.
"Shah Wali never gave us the records. He kept the accounts system in such a way that we did not know what was coming and what was going," says Hamid Helmandi, an urban planner from California who owns 20% of Aynomeena and played a central role in developing it.
Adds Mahmood: "There was a lot of stealing involved."
Shah Wali didn`t respond to numerous requests for a meeting or for comment, but he addressed the issue when it first arose. In an email to Gerald Posner, a lawyer who has represented some Karzai family members, Shah Wali wrote in May 2012 that the disputed money "belongs to the people of Kandahar" who paid for Aynomeena`s infrastructure.
"Not one penny was missing...When I became project manager, they owed money to the bank and local contractors and all the money was paid off as I turned around that company from a bankrupt one to a successful one," Shah Wali added, according to the text provided by Mr. Posner, who doesn`t represent Shah Wali.
A close associate of Shah Wali, Syed Jaan Khakrezwal, the chairman of the Kandahar provincial council, says that "there was no conflict of interest" between Shah Wali and Mahmood, and the controversy over Aynomeena was resolved months ago.
The governor of Afghanistan`s central bank, Noorullah Delawari, confirms a current dispute over Aynomeena and describes its outlines.
"There is a set of investors and they had a bank account, and these investors assigned another party to manage the project. That party since opened an account and some money has been transferred, and this is the dispute," the central banker says.
He also says he has "conveyed a message" to commercial banks to freeze the transferred cash. "We have suggested the matter should be resolved through legal channels," he says.
President Karzai, however, has insisted on keeping the dispute confined within the family. At first, brother Qayum tried to reconcile Mahmood and Shah Wali. Having failed, Qayum has chosen to stay away from Kandahar, family members say.
At the end of 2012, President Karzai became personally involved in the feud, flying to Kandahar in an attempt to find a solution.
"The president said if there is any problem with the project, it is best to hand it over to the government," says the mayor of Kandahar, Mohammed Omer, a family confidant who previously ran Qayum`s large television and advertising business. "But we said it should remain the way it is operating now."
Both sides, the mayor added, "have played a key role in the successes and achievements of Aynomeena."
While home to only 3,000 families, the development accounts for one-tenth of municipal tax revenue in the city of nearly a million, the mayor says. It is also safe, in contrast to city neighborhoods such as Loy Wala, which is filled with illegal shantytowns teeming with Taliban.
Without the allegedly missing millions of dollars, however, Aynomeena is having a hard time paying contractors and suppliers. Its bank balance dropped to just $14,000 in June, while debts to contractors and suppliers topped $17 million, company officials say.
"We`re in bad shape," says Mr. Helmandi, the California urban planner who helped develop Aynomeena and owns part of it. "Aynomeena is my life. This is my baby. I don`t want to see it go to waste. It broke my heart."
Mahmood says that in an effort to resolve the impasse, he signed a written commitment to give his half-brother Shah Wali a 20% stake in Aynomeena.
But that proposal raised concerns among other investors who are holders of U.S. passports: Mr. Helmandi and a cousin named Hashem Karzai. Mr. Helmandi says lawyers have advised him that giving equity to Shah Wali in these circumstances could be a crime under the U.S. Foreign Corrupt Practices Act. "That would be bribing. I can`t do anything illegal," he says.
After several months of negotiations, it seemed by late last week that a compromise was in sight. Mahmood said in an email Friday that he had been told money would be transferred back to his company`s accounts because he had "agreed with some conditions imposed on me." Mr. Helmandi, however, said he didn`t believe the conflict was near a resolution.
Meanwhile, Mr. Khakrezwal and other politicians close to Shah Wali have been busy at recent gatherings that call for President Karzai to remain in power after next year, possibly by aborting the planned election and extending his term at a traditional assembly called the Loya Jirga.
"Four or five more years should be given to President Karzai until we have enough security to enable us to have an election," Mr. Khakrezwal says. "The Karzai family is a prominent family in Kandahar, and they have great support."
The dispute between Mahmood and Shah Wali is only one part of a three-way Karzai rivalry rocking Kandahar. The other split is between the president`s brothers and the rival family branch headed by cousin Hashmat, also a U.S. passport holder.
Hashmat is based in a forbidding fort in the village of Karz, where he meets daily delegations of elders as he puffs a cigar amid sips from a Hershey`s coffee mug. Since the slaying of Ahmed Wali, Hashmat has emerged as the main opposition leader in the region.
He has asserted authority within the Popolzai tribe, of which the Karzai clan is a part. "The Popolzais are very angry with Shah Wali, and so they are going to Hashmat. They say he is their elder," says Hajji Ehsan Noorzai, a former chairman of the Kandahar provincial council.
Mr. Noorzai served as deputy chairman of the council when Ahmed Wali led it and initially took over the council after the assassination.
In February, however, Mr. Khakrezwal made a leadership bid, backed by the Karzai brothers.
Cousin Hashmat then publicly threw his weight behind Mr. Noorzai.
During a stormy meeting that month, the sides accused each other of trying to use violence to get their way. After a gathering of provincial lawmakers that Mr. Noorzai and his allies boycotted, Mr. Khakrezwal occupied the office set aside for the provincial council chairman.
The Noorzai side backed by Hashmat refuses to recognize the change. They have stayed away from the council`s meetings, depriving it of a quorum.
A few weeks later, Kandahar authorities accused the cousin of illegally grabbing government land on which he built a compound that houses U.S. contractors. Hashmat denies any wrongdoing and says the moves against him are politically motivated.
"They want me to shut up, but I can`t," he says. "We know the system is corrupt...We know this whole regime is going down."
© Copyright 2013 Dow Jones & Company, Inc.
Article Says US `Will` Built Bases in Afghanistan, Destroy Pakistani Institutions
Khabrain Online
Monday, July 1, 2013
Article by Javed Afzal: "Why US Will Stay in Kabul?"
The United States has partially withdrawing from Afghanistan. But it will maintain a military, political, and technical presence in Afghanistan, just like the United States maintained such a presence in Germany and Japan after the Second World War. The United States maintained a military base at the Japanese Island Okinawa with nuclear missiles and around 40,000 US troops. And similarly, it has US Army and nuclear missiles in Berlin -- in spite of the fact that both these countries are the allies of the United States. But the United States does not want that a nationalism like that of The World War to emerge in Germany and Japan again to challenge its monopoly. Trends like this can be suppressed in these countries. The United States will try to control the situation in Afghanistan indirectly. For example, the political set up of Afghanistan, like Army, control of security agencies, foreign affairs, will remain under the control of United States. The United States is not going for a full scale withdrawal that it did in Vietnam. Therefore, the internal chaos and conflicts will continue in Afghanistan. But it is trying that the Afghan Government, which is under it should also have on board the opposition elements, and the Taliban should be part of mainstream politics.
Although, it is a positive step, but these steps should be taken after taking Pakistan, Iran, China, and Russia into confidence. Otherwise, the United States, after subjugating Afghanistan will use the Afghan terrorism against other countries -- just like it is doing now. The United States is supporting the Chechen freedom fighters against Russia and the Muslim separatist outfit Uighur against China in Xinjiang.
For Pakistan, the presence of the United States in Afghanistan is under a preplanned arrangement and it will remain like this. The question that comes to mind is, why did the United States came to Afghanistan and wasted billions of dollars as well as the lives of many Americans? Although, the 9/11 was made an excuse, but all the characters, script, and network of the 9/11 was the brainchild of the US secret agencies. And those who participated in it might have been waging jihad like today and they might have been linked with Usama Bin Ladin. But the United States made it a reason to launch a crusade against the Muslim countries. A ghost of the Al-Qa`ida was created. The fact of the matter is, if there is an outfit like the Al-Qa`ida, then why it cannot attack the United States or its allies in Europe? The United States has propagated about the Al-Qa`ida through its media just to make a public opinion and spread fear. Bin Ladin and his companions were used unintentionally and the United States got the opportunity to interfere in the Muslim countries. The American public otherwise would have never permitted it.
The United States is on the mission of toppling the strong governments of the Arab countries through anarchy, and suppressing the rising Islamism in these countries is part of its agenda. The United States has turned this agenda into the form of chaos and the worst terrorism. The armed militants groups and outfits are now committing atrocious acts in the name of religion and the social, ethnic, regional, and religious conflicts have been used in these countries. Armed groups were created for a civil war. The United States has not come to Afghanistan to tighten noose around China or to subjugate the energy resources of Central Asia. These things have become meaningless in today`s age of science and technology. China and the United States are benefitting each other with billions of rupees. Loss of one is destruction of the other party. The economies and securities of China and the United States are linked with each other. The use of the Central Asian energy, oil, and gas is in the United States and its allied countries. China has taken a 4000 km long gas and oil pipeline and the rest are going to Europe from Ukraine, Armenia, and Russia via sea through Turkey. One of the objectives of the United States is to suppress the rising Islamic power of Afghanistan, which it did through the use of power and converted the rented people into dreadful terrorists. The people who participated in the Afghan Jihad were maligned and isolated. But they could not buy the faith of the Afghans. The devil United States had told its disciples in the world of the poet Dr Mohammad Iqbal: The only solution to religious faith of the Afghans is that clerics should be thrown out of their mountains. The Afghans are never afraid of starvation. Therefore, the spirit of Mohammad should be taken out of their bodies.
Another objective of the United States is to disintegrate the nuclear Islamic Republic of Pakistan and take control of its nuclear assets. Media took little notice of it -- i.e., President Obama said in his policy statement that the mission of the United States had been almost completed in Afghanistan and now the US security feels threatened only by the nuclear powers -- the indication was toward Pakistan, North Korea, and Iran. What is the strategy of Pakistan and the United States? Armed outfits were prepared in Pakistan in the name of the Taliban. They destroyed our defense institutions. They did not spare mosques, imambargah, shrines of Sufis, and funerals. But not a single US target in Pakistan was attacked. Not a single American was killed. The society was divided through sectarian outfits and massacre in the name of sect was going on. The United States is sponsoring for terrorism in Balochistan in the name of separation. A government was installed to power through NRO (National Reconciliation Ordinance) for five years that has eaten up the roots of the country and eroded the writ of the state. Thousands of houses were purchased in Islamabad and other important places. Thousands of elite families are on their tips. They have deep ingress inside the country`s bureaucracy and defense institutions. The nuclear weapons are its target and a lot of progress has been made on it. Pakistani nationalist has been limited to just such Armed Forces, Rangers, Frontier Constabulary, and frontier corps personnel that are deployed on security and who are sacrificing their lives by fighting. They are being pitted against each other in an unorganized way so that the power and determination of these institutions is destroyed. Not a single terrorist was punished by the courts. The institutions of the country and economy were destroyed and it was not stopped. The country`s affairs are being weakened deliberately. And it seems that the writ of the US agenda is prevailing upon our superior institutions. The writ of Pakistan is being suppressed by rising up the issues. This means that there is chaos in Pakistan as per the US agenda and the statement of the US President Obama that the United States has threats from the nuclear countries clearly shows that the United States will construct bases in Afghanistan and destroy Pakistani institutions like Iraq and Libya -- God forbid. I wish we would have realized how deep the United States has penetrated within us.
(Description of Source: Islamabad Khabrain Online in Urdu -- Website of the "News," a sensationalist daily, published by Liberty Papers Ltd., generally critical of Pakistan People`s Party; known for its access to government and military sources of information. The same group owns The Post in English, Naya Akhbar in Urdu and Channel 5 TV. Circulation of 30,000; URL: www.khabrain.com)
© Compiled and distributed by NTIS, US Dept. of Commerce. All rights reserved.